5 Interesting Uses For CBD Oil
CBD oil is taking the world by storm for good reason. Products with hemp CBD provide multiple options to enhance your day from the blissful moment you wake up until the last worry-free thought you have at bedtime. However, CBD is such a new phenomenon that many people don't know what it is or what it can do.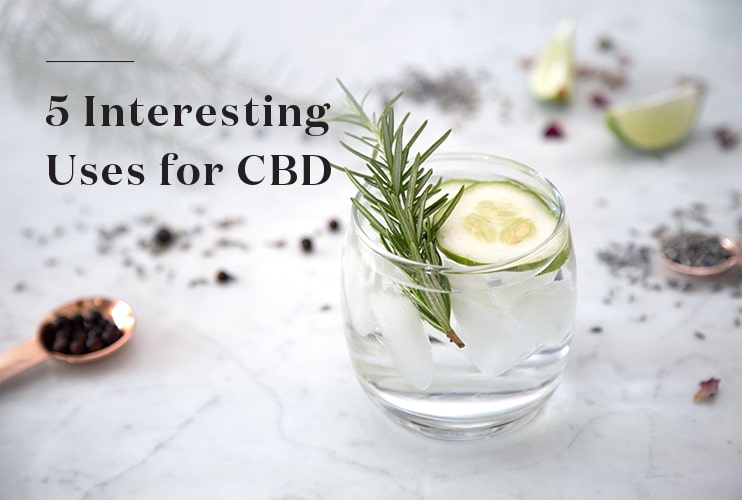 Simply put, cannabis oil is the concentrated liquid extract of the the cannabis plant. Unlike tetrahydrocannabinol (THC), the primary psychoactive compound in marijuana, CBD isn't known to cause psychoactive effects. That makes CBD products an appealing option for those who are searching for relief, but want to avoid the mind-altering effects of marijuana or the side effects of pharmaceutical drugs.
There are some pretty amazing things you can do with CBD oils that you never would have guessed. From morning to late night, below are five interesting ways that CBD can enhance your day.
1. Starting With A Natural Skincare Routine
What a way to start the day! Countless lotions, creams and skin-soothers infused with CBD have launched this year. At the top of the list, CBD is now available as skin salve. This is news that could bring a smile to your face every morning.
We suggest looking for a skin salve that is made using only organic ingredients such as coconut oil, beeswax, lavender oil and eucalyptus oil. Make sure you choose only the highest specification PCR CBD oil. Broad-spectrum hemp oil will contain an array of cannabinoids, as well as a wide list of naturally occurring vitamins and minerals, putting the "natural" into your skincare routine.
2. Adding Sunshine To Your Day
Quality CBD oils, such as those from One CBD, are handpicked extracts derived from quality hemp fields. They are 100% organic, vegan-friendly, THC-free, gluten-free – and they don't take up much space in any cabinet.
If you're concerned about the side effects that go with over-the-counter painkillers such as Tylenol, Advil and others, you may want to fill your cabinets with options grown in the natural sunshine.
3. Putting A Little Extra Into Your Workout
Did you know that CBD oil could be your workout buddy? When you train hard, your body is constantly inflamed. Many athletes reach for CBD oil as a natural recovery supplement and it's finding its way into gyms and studios across America.
4. Crafting The Perfect Cocktail
CBD is one of the splashiest additions to happy hour scenes this year, and you can bring this trend to your home with our CBD Drops. 10 to 15 mg per cocktail is all you need to add a delightful boost to your margarita with a natural infusion of CBD.
While CBD cocktails are known for nightlife, you can still get your daytime drink on with non-alcoholic, carbonated soft drinks that are CBD-infused. Look for drinks with low sugar content for the healthiest enjoyment.
5. Enjoying A Good Night's Sleep
Just as you can start a great day with CBD, it can help set you up for restorative rest at night. Finding ways to enhance relaxation that doesn't utilize drowsy medicines or require counting sheep is always a dreamy on our list.
From morning to night, CBD oils have a place at any hour. If you think CBD oils may be a good solution for you, start learning what all your options are. Most importantly, remember to make sure and select a quality product you can trust.