A COMPLETE GUIDE TO VAPE SEO, VAPE MARKETING & VAPE BACKLINKS
A warm welcome from The Eliquid Boutique! Today, I am going to discuss backlinks and why they are important for your vape website!

First of all, run a google search for some keywords you would like to rank for and see where you come up! If you are not ranking, there could be several reasons. On-page and off-page optimisation may be two areas you may need to address. Off-page SEO is everything you do without touching your website whilst on-page SEO is the work that you do on your website.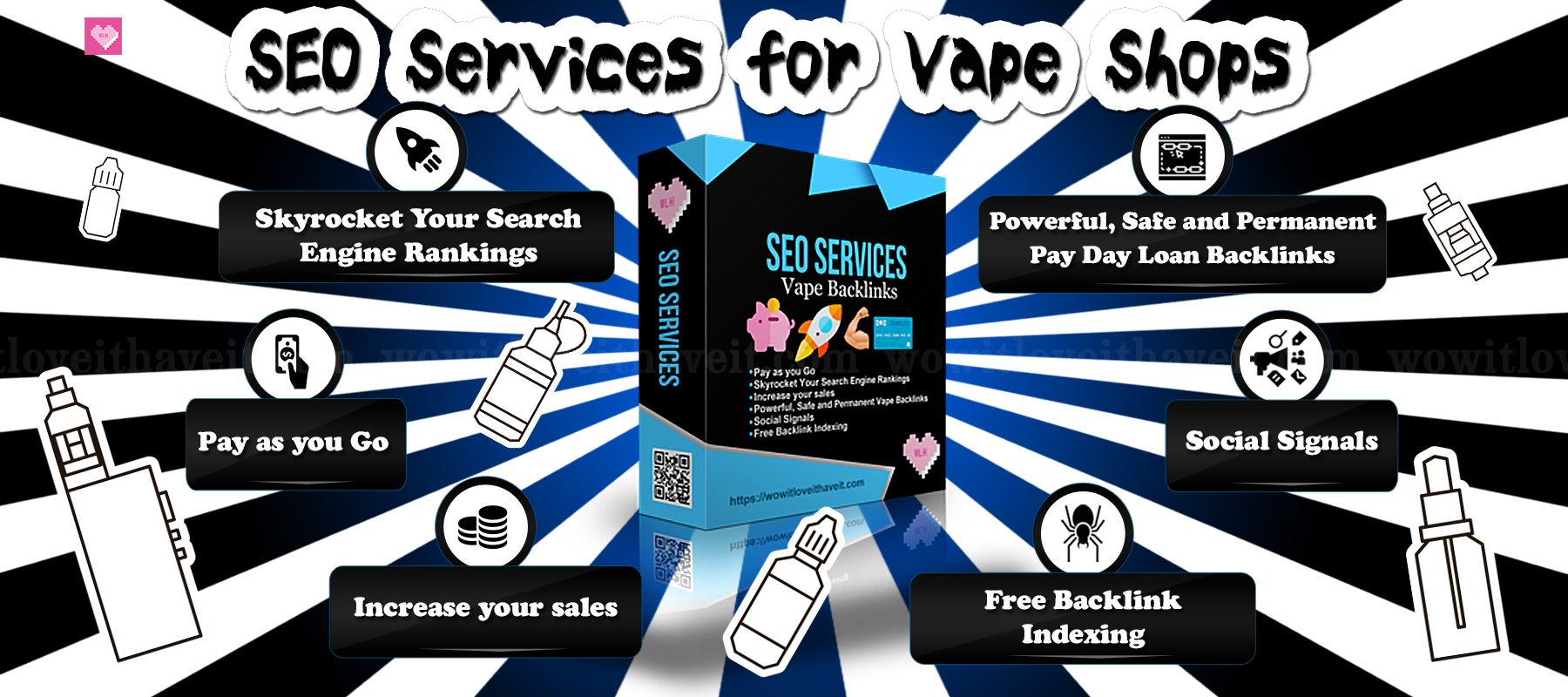 MUST WATCH: THIS GUIDE WILL CHANGE THE WAY YOU DO YOUR VAPE SEO!
This vape seo guide will change the way you do your vape marketing. Watch our tutorial video in which we share everything you need to know about on-page vaping SEO, vape keywords, off-page vape SEO, vape backlinks and surefire ways for ranking your vape shop on Google!
Vape SEO and On-Page Optimisation
Let's explore on-page optimisation first! On-page optimisation typically relates to your meta titles, meta descriptions, headings, titles and content. For each product, category, blog or any other page, ensure that you have come up with a keyword. A keyword is something people would normally search for on Google. For example, if you sell Strawberry Doughnut E-Liquid then it would not be sufficient to say Strawberry Doughnut alone. A strawberry doughnut could be an actual doughnut and not just e-liquid. Instead, a good keyword would be "Yoggy's strawberry doughnut e-liquid 60ml 3mg". This keyword covers the brand of the e-liquid, the flavour profile, it mentions the keyword e-liquid, it tells the bottle size and nicotine content. It is also a good idea to add some variations to your root keywords. In this example, e-liquid is our root keyword as it describes the product. You could use many variants including vape juice, e-juice, e-liquid, eliquid without the hyphen, ejuice without the hyphen and so on! It is always handy to quickly Google your product to see what keywords your competitors are using. However, always ensure that you use keywords for humans and not the search engines! Always ask yourself, does the keyword sound natural.
Optimising your web page for Vape SEO: Adding your keywords to meta title, meta description, page name, H1 to H6 headings and body content
The next step is to add your keyword to the name of the page or product, your H1 to H6 headings, meta title, meta description and the body of the actual text. Inside the body of your content, do try and use many different variants for your keyword to give Google and other search engines the context of what your page is about. I strongly recommend that you create slightly longer keywords as those rank better. It is next to impossible to rank for keywords such as "vape" or "e-juice" alone due to the sheer amount of competition.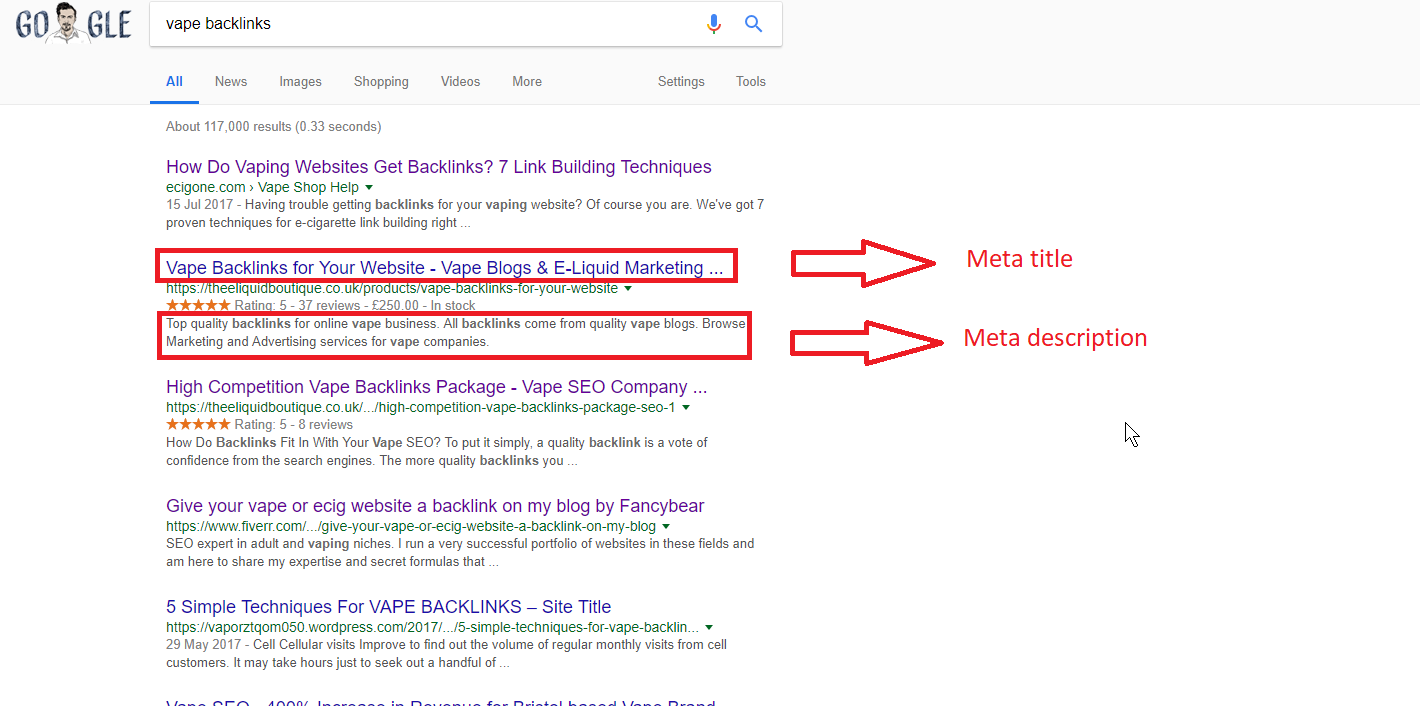 Content is King! Unique Content is key to vape SEO
Now, listen very carefully, this bit is super important. It is very important that you get a content writer to write unique content for your website! For blogs, I recommend longer content and for product descriptions slightly shorter content. Ensure that the content is grammatically correct, well-formatter and unique. Unique content is the cornerstone of today's SEO landscape. If you are ordering your content from freelancers, make sure to scan their work using copyscape to ensure that it is unique. Only unique content will rank well on the search engines such as Google! If you do not have the time to write the content yourself, you can hire a freelance content writer at a reputable freelance website such as Sweaty Quid.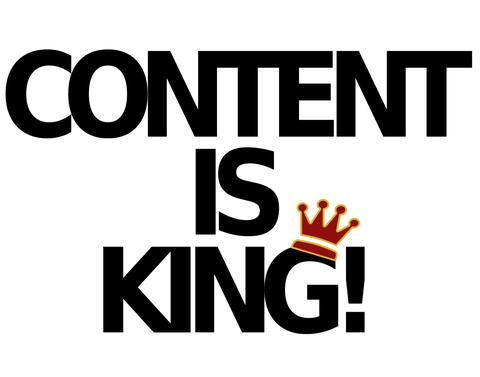 Optimise your vape images by adding your keywords to image alt tags
Another thing to consider is alt tags. Make sure to add your keywords to image alt tags so that your images rank on Google image searches. To make your pages engaging, I recommend that you add some images and embed some YouTube videos to get people to spend longer on your website and reduce your bounce rate!
Off-page VAPE SEO: Vape Backlinks
Having covered the basics of on-site SEO, let us proceed to off-page SEO.

When I speak about backlinks most people shake at the idea of buying backlinks and give me a sceptical look. I do not blame them. Remember, there are many unscrupulous SEO people who engage in black hat tactics, a phrase that was coined to describe spammy backlinks that include millions of forum posts or blog comments. Fear not, even if your website has spammy backlinks, these can be disavowed via the Google search console. Another piece of great news is that Google no longer penalises websites with a large portfolio of spammy backlinks. Instead, it will not attribute any weight to them without actually harming your website rankings. Moving on.

Great content and a well-optimised website is great, but it is not enough to rank you on Google! Backlinks form an important element of the SEO ranking equation. You may wonder. What is a backlink. In very simple terms, a backlink is when an external website references your website via a link to your website url. Backlinks is an important ranking factor because it acts as a vote of confidence from Google. Google basically thinks to itself, this website has quality backlinks from vape related websites which means that it is popular. Therefore, I am going to rank it above other websites. A quality backlink collection will also strengthen your domain authority which will make your website more authoritative. Backlinks also come in several formats: NO FOLLOW and DO FOLLOW. DO FOLLOW backlinks are more valuable but Google now wants to see a healthy mix of FOLLOW and NO FOLLOW backlinks. The overriding consideration is to keep everything natural. Now, listen carefully as this is crucial. It is extremely important that your backlinks come from niche related websites. For example, if you run an online vape shop or an e-liquid brand, it is important that your backlinks come from vape-related websites. If you start getting backlinks from non-vape related websites, it is fine to an extent as it is normal for non-niche related websites to link to your vape shop.

Contextual backlinks tend to carry most weight. Contextual backlinks are simply backlinks that come inside an article and have content surrounding them. I have seen many vape shop and vape company owners tell me that they want anchor text only for their keywords. This can be very dangerous for the SEO of your vape website and can raise a red flag with Google! If we take our previous example of Yoggy's strawberry doughnut e-liquid 60ml 3mg. It would be total suicide to use only this keyword for all your backlinks because IT IS NOT NATURAL. Since the implementation of the latest Google algorithms, Google can determine what is natural and what isn't! Instead, it is very important to use a mix of branded, naked, generic and keyword anchor texts for your backlink profile. A branded anchor text is your brand name such as Yoggy's Vape Juice, a naked anchor text is your website url address, generic anchor text is a generic word such as click here, learn more and so on whilst keyword anchor text is your actual keyword that you are hoping to rank for which in our example is "Yoggy's strawberry doughnut e-liquid 60ml 3mg". 10% keyword anchor text is considered to be safe by a lot of SEO marketers and seems to be the current norm.

One way in which you can gain backlinks is via guest blog posts on vape websites. However, this is usually very expensive and difficult because not many vape companies want to pass on SEO power to their competitors. To address this problem, we have built our very own network of vape and e-juice blogs over the last 5 years. In total, we have over 10,000 vape blogs and are constantly creating new blogs. All of our vape blogs have insanely high domain authority which is great for SERP juice! Some of the biggest vape juice brands and vape shops are already using our vape backlink services on a monthly basis to outrank their competitors. I am going to let you in a small secret: a lot of our clients have refused to do reviews for us because they do not want their competitors to find out! This goes to show just how powerful our backlinks are.
Buy vape backlinks today!
To get started, simply order your backlink package. We have divided our packages according to the levels of competition you consider that your business faces. Use this litmus test to guide you. I recommend the high competition vape backlink package simply because it is the most powerful package out there. Simply place your order and our team will get in touch to take your website and the keywords you would like to rank for. That is all there is to it. The Eliquid Boutique Team will then do all the behind the scenes work. All of your vape backlinks will be sent to Google for crawling and indexing. You will receive a document with all your backlinks. Please allow for approximately a month for the job to be completed as it is quite labour intensive and we also do try to move at a speed that Google considers natural. Please also bear in mind that SEO is a marathon and not a race. SEO does not happen overnight and it does take time and continued efforts!

Before I go, I wanted to touch upon social signals. Social signals are social media posts on Facebook, Twitter, Google plus, Pinterest and other platforms with your website url in them. Social signals also form an important part of the website ranking strategy as they tell Google and other search engines just how popular your website is. The awesome software geeks at The Eliquid Boutique have developed social media poster software for almost every important social media platform. These posters basically allow you to generate social signals by making social media posts on auto pilot. The software is very easy to use but it will require you to buy off-the-shelf social media accounts and private proxies. I strongly recommend that you check them out on The Eliquid Boutique's website. If you are keen to contact websites for guest blog posts, I recommend that you check out CRAZY PANTS SHOPIFY CONTACT FORM SUBMITTER and MOP MOP'S B2B LEAD GOLD MINE. These software will allow you to find all vape websites using shopify or wix and contact them via contact forms automatically.

Thank you guys for watching this crash course in vape SEO. I hope that you have found it useful. Please subscribe to our newsletter and YouTube channel for more vape SEO tips, guides and strategies to take your vape business to the next level.

Have a great day! Bye!