BEST PREMIUM E-LIQUID UK COLLECTION FOR LARGE CLOUDS, CLOUD CHASERS, DRIPPERS AND SUB OHMERS
E-Liquid Boutique is a UK-based Online Vape Shop, Premium E-Liquid Manufacturer and Wholesaler. Our Best Premium E-Liquid UK Collection currently includes E-LUXE LONDON, SQUARE 47 and MY JUICY AFFAIR.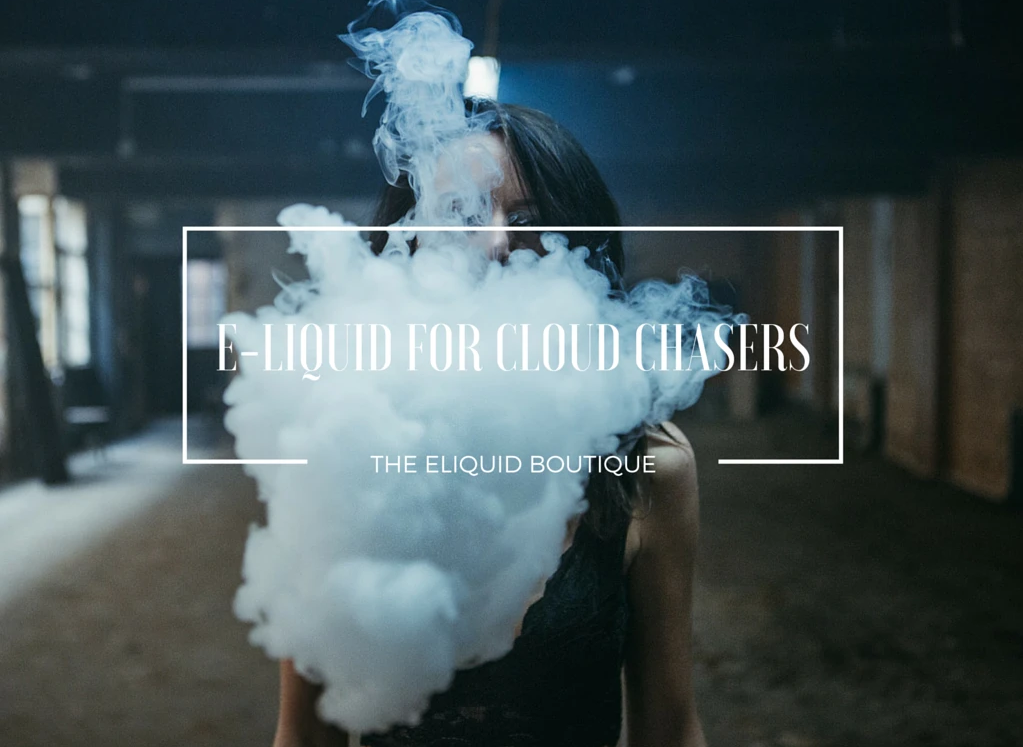 ONLINE VAPE SHOP - BUY PREMIUM UK E-LIQUID
E-Liquid Boutique offers an enviable range of premium e-liquid through its online shop. We ship e-liquid worldwide. Before ordering, please make sure that you check your local laws and regulations on e-liquid to prevent potential problems.
With a focus on e-liquid with a higher VG content, generally in a ratio of 70:30 VG to PG, our premium e-liquid is ideal for cloud chasers who are looking for large and flavoursome clouds as well as vapers who appreciate quality and are looking to try flavours like no other. As well as stocking our premium e-liquid lines, we also stock our online vape shop with guests e-liquid from leading vape brands. Whilst we endeavour to stock as many popular and liked brands, our focus is on finding new e-liquid companies from vape companies in the UK and the USA. We feel that e-liquid from smaller and relatively new e-juice companies tends to be handcrafted in small batches and to very high standards of quality. We feel that anyone can buy leading e-liquid brands from almost any vape shop be it a bricks-and-mortar store or and online vape shop. However, vapers tend to get tired of the mainstream brands and are increasingly searching for new e-liquid brands to spice up their taste palettes and just try something new. This is where we go out of our way to ensure that our online vape shop has relatively new and up-and-coming gourmet e-liquid brands. We are constantly sampling new e-liquid flavours and if they cut the muster of the sophisticated taste buds of our team, we stock them. At The Eliquid Boutique, we take quality and safety extremely seriously. Before stocking any e-liquid brand, we apply rigorous vetting procedures to ensure that the e-liquid is compliant, safe and made from the highest base ingredients (VG, PG, nicotine and flavourings) under hygienic conditions. You can purchase our premium e-liquid online as well as through a range of vape shops. You can find a list of vape shops that stock our e-liquid in your area on our website. If there isn't a vape shop near you that stocks our e-liquid you can always order online or recommend our brands to your vape store. For all successful recommendations, we will reward you with some free e-liquid.
PREMIUM E-LIQUID MANUFACTURER IN UK
E-Liquid Boutique was founded by Florere Capital and has acted as a vehicle for acquiring premium UK e-liquid brands. All e-liquid brands presently owned by Florere Capital are manufactured in the UK at its state-of-the-art facilities by skilled and qualified personnel using the highest quality ingredients.
All of our e-liquid is handcrafted to the highest standards of quality and compliance with local and international laws and standards before it is steeped to perfection. At The Eliquid Boutique, we focus on producing gourmet e-liquid with a high VG content, which makes our e-liquid lines especially suited for cloud chasing and for vapers who appreciate quality e-liquid. Our flavour mixologists work hard to conjure up vapegasmic flavours like no other. Before our e-liquid reaches the shelves of many vape shops and our online store, we ensure that our e-liquid cuts the muster of any sophisticated vaper's taste palette.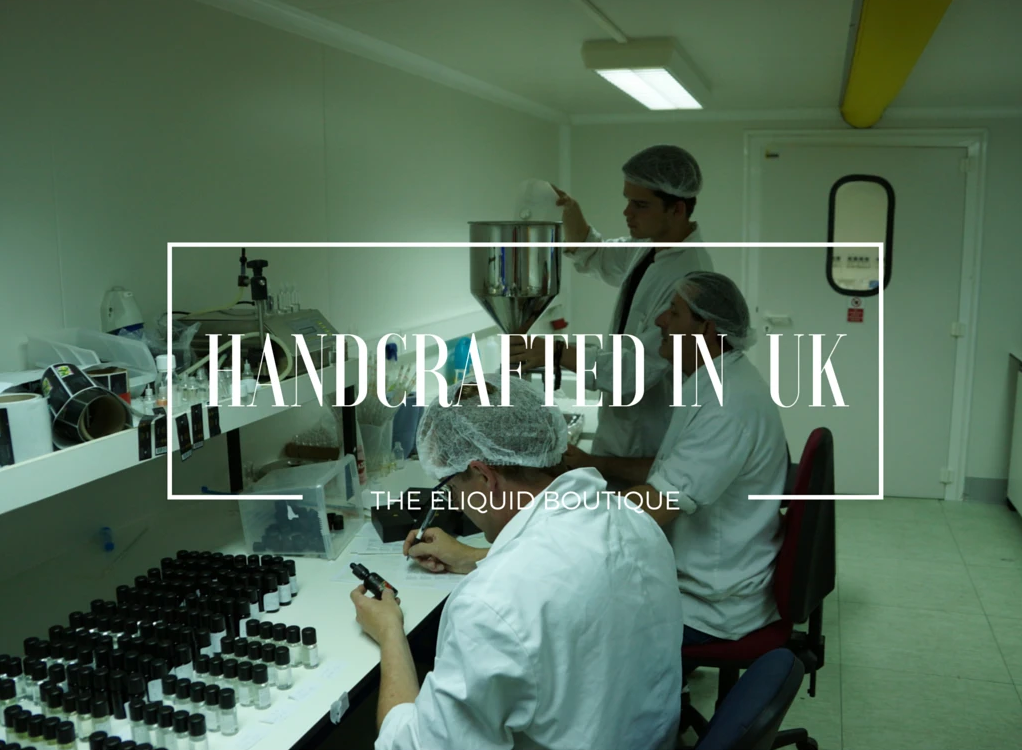 PREMIUM E LIQUID WHOLESALE SUPPLIERS UK
Following the success of numerous mergers and acquisitions of premium UK e-liquid brands by E-Liquid Boutique, E-Liquid Boutique is able to offer very competitive prices on wholesale e-liquid orders without sacrificing the quality. E-Liquid Boutique is already selling to many vape shops across the world, including UK and United States, which makes Eliquid Boutique a preferred premium premium e liquid wholesale suppliers uk. If you are interested in our e-liquid brands, please send us an email or alternatively, you can complete our online submission form.
If you are looking for premium e-liquid at most competitive prices, we can certainly help. Whilst lower prices may have connotations with lower quality, at The Eliquid Boutique, we regularly produce a large amount of e-liquid for wholesale. This, in turn, allows us to achieve larger volumes and subsequently savings from economies of scale, which we always pass on to our wholesale clients such as vape shops. We do not have an MOQ since we want to make our premium e-liquid brands accessible to vape shops with more restricted budgets and sizes. We want you to buy as much e-liquid as you can possibly sell at your vape shop. We advise all of our wholesale customers to place their orders in advance to avoid disappointment as our e-liquid does have a tendency to "fly".
BEST PREMIUM E-LIQUID UK COLLECTION FROM THE ELIQUID BOUTIQUE
SQUARE 47 - CLASSICAL AND SOPHISTICATED
Before we jump into discussing the SQUARE 47 E-Liquid Collection, SQUARE 47 brand was actually developed in partnership with Eastern Ray London, a VIP shisha hire service for celebrities. As Eastern Ray London's vaping clientele grew exponentially, Eastern Ray London decided to team up with SQUARE 47 and develop a brand in collaboration with Eastern Ray London's Celebrity Clients such as Middle Eastern Royal Families, Moguls, Famous actors and singers and other noteworthy individuals.
If you are easy going and looking for more juicy affairs, why not try out the vapetastic guest e-liquid from the UK. SQUARE 47 is a leading UK E-Liquid Brand that is renowned for the high quality of its E-Liquid that is inspired by the best of English Cuisine and Deserts. SQUARE 47 E-Liquid has a high proportion of VG, which makes it perfect for drippers, but at the same time, the VG cut-off point also makes this premium E-liquid suitable for tank users. SQUARE 47 E-Liquid is handcrafted in the UK by experienced mixologists and chemists who have a great passion for vaping and work hard to make each e-juice flavour perfect. SQUARE 47 E-Liquid consists of very complex and sophisticated flavours which are achieved by layering multiple flavours together to achieve a consistent and delicious flavour with thick and pleasant clouds. To learn more about SQUARE 47 Premium E-Liquid range, please visit SQUARE 47 official website.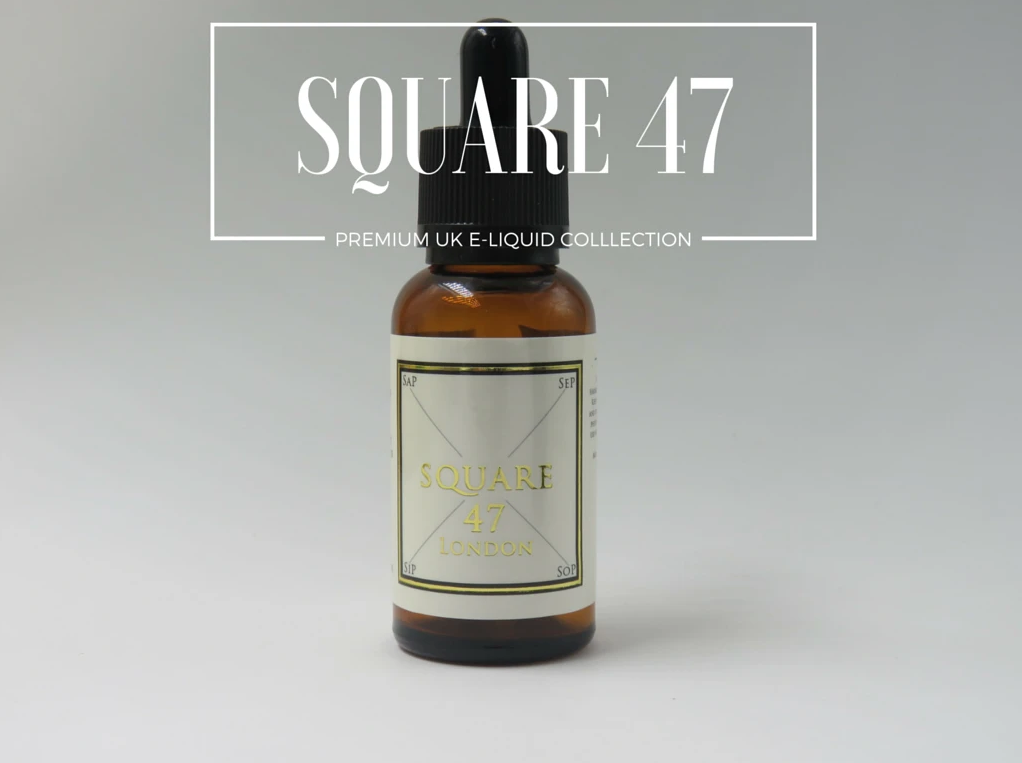 E-LUXE LONDON - LUXURY ENGLISH E-LIQUID COLLECTION
E-LUXE LONDON is a leading British E-Liquid brand that is renowned for its fascinating E-Liquid combinations with the likes of Cucumber Fizz. E-LUXE LONDON E-Liquid Collection is blended, Steeped and Bottled in the UK by leading chemists and mixologists who are also real vape addicts! E-LUXE LONDON is a great E-Liquid brand for vapers who have tried out almost every E-Liquid Flavour and are looking for a completely new and refreshing Vaping Experience. E-LUXE LONDON E-Liquid Collection is VG heavy and is great for drippers as well as subtank users. An interesting fact about E-LUXE is that its labels and artwork is actually drawn by a famous UK artist which gives the E-Liquid an artistic and creative twist. The flavour combinations are also very unusual and exceptionally good.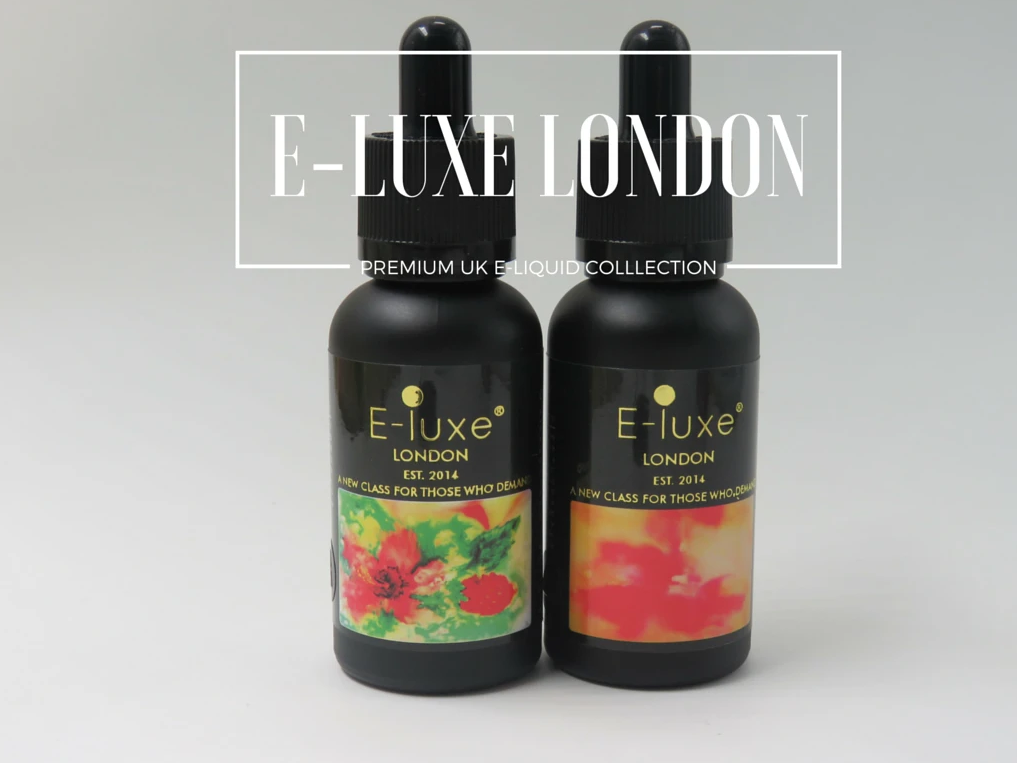 MY JUICY AFFAIR - SWEET AND SEDUCTIVE GOURMET E-LIQUID COLLECTION
MY JUICY AFFAIR is a British Vaping brand that specialises in producing premium eliquid right here in England. MY JUICY AFFAIR is especially renowned for its complex and multi-layered flavours that produce a vapegasmic and very moreish vape. MY JUICY AFFAIR's eliquid is sweet and desert based, just like the eliquid protagonists. MY JUICY AFFAIR has done an especially great job in getting the right balance between the flavours being sweet and indulgent but not overpowering as is the case with many eliquids on the market. The vapour production from MY JUICY AFFAIR eliquid is very impressive. We recommend MY JUICY AFFAIR to all sweet tooth vapours who are looking for new desert combinations.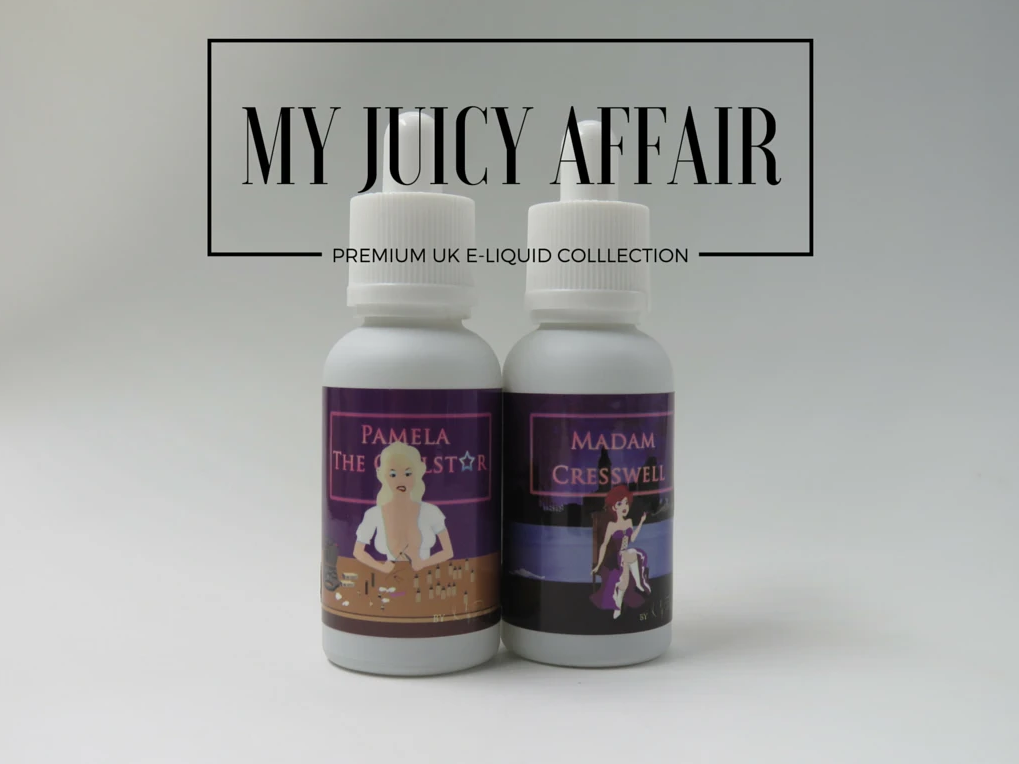 EASTERN RAY EVENTS
Eastern Ray Shisha is a UK based company that provides VIP shisha pipe hire for Celebrity Parties, Birthdays, Weddings and Corporate Events. Eastern Ray Shisha is especially renowned for its exciting and luxurious shisha menu consisting of electronic shisha pipes, champagne infused shisha, shisha made from freshly carved fruit bowls and more. Eastern Ray Shisha has seen tremendous growth in popularity from its Celebrity Clients and has expanded into Celebrity Event Planning through its sister company Eastern Ray Events. So, to continue the story, Eastern Ray decided to diversify into the vaping industry by teaming up with SQUARE 47 to produce a prestigious E-Liquid Collection in collaboration with its Celebrity Clients. Eastern Ray Shisha have successfully applied years of expertise in making bespoke tobacco mixes and translated this very successfully by producing some of the best E-Liquid on the UK market. SQUARE 47 E-Liquid is seeing increased popularity all over the world and is sure to satisfy even the most discriminating vapers who are looking for an added layer of indulgence and luxury. To conclude the blurb, we have met our friend at a high-end gym and asked him why he doesn't train at our "hardcore" local gym in the East End. His reply was: "I am at the age when I need some luxury now". Well, applying the analogy, why wait? Because with SQUARE 47, luxury is at your fingertips, literally!