CBD coffee – The health benefits and side effects
Unlike THC which is a component of Marijuana, CBD doesn't have psychotropic effects, that is you won't get high from taking CBD. In addition to not making you feel high, CBD also offers a number of benefits. So if you want to start your day on a good note, you should consider adding a little twist to your coffee. When you add a little twist to your coffee, your coffee time will be a part of your day that you look forward to. If you are not sure of what CBD coffee is, this post will share everything you need to know about CBD coffee.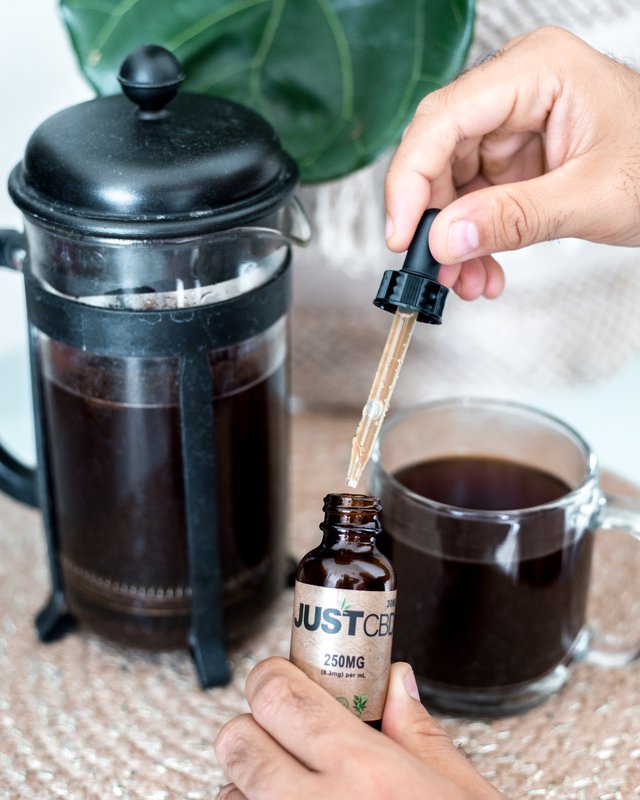 What is CBD coffee?
Both CBD and coffee provide a lot of health benefits, so it's no surprise that they joined forces to become the favorite drink of every cannabis enthusiast and coffee lover. Some consumers consider CBD coffee to be a natural therapy that helps to combat numerous health problems such as depression, diabetes, anxiety, heart problems, cancer, chronic pain, and many more. Let's talk about CBD, CBD coffee and how it works.
Will CBD Coffee Get You High?
As I established earlier, the amazing thing about CBD and CBD products is the fact that CBD cannot get you high. THC, which is a distant cousin of CBD also provide the same benefits CBD, but the only difference is you can enjoy unwanted high with CBD, and that is the reason why CBD is suitable for everyday use.
How CBD works?
CBD, otherwise known as Cannabidiol is one of the many components of Marijuana and it has been linked to a number of health benefits, and also practical and suitable for everyday use. Since CBD doesn't give the unwanted high, it can be added into all kinds of products including gummy bears, cookies, salads, and even coffee. Though CBD occurs naturally in both animals and human species, it can be gotten from the industrial cannabis plant. While CBD doesn't bind directly to CBD receptors CB1 and CB2, it then bonds with other receptors thereby enabling the medical effects it has on the mind and body.What are the benefits of CBD coffee?
Studies has shown that CBD is effective for the treatment of psychological disorders such as depression, anxiety, as well as epilepsy, migraines, neurodegenerative diseases, chronic seizures, and different types of cancer. The amazing thing about the combination of CBD and coffee is the fact that they both have mood lifting properties which helps to reduce the symptoms of anxiety and depression, and reduces the chances of developing anxiety symptoms in the first place. Both CBD and coffee are excellent sources of antioxidants which helps to reduce inflammation, swelling, and aging. Studies have shown that antioxidants helps to reduce the risk of developing cancer. Here are a few benefits of CBD/coffee combination and they are definitely worth mentioning. Relieves bowel problems Reduces the risk of diabetes Treats seizures Alleviates depression Promote cardiovascular health Reduces stress Improve lung and heart benefit Helps focus May Alleviate Depression and Anxiety CBD helps to activate the adenosine receptors which control coronary blood flow, cardiovascular functions, myocardial oxygen consumption, and also help to combat symptoms of depression and anxiety. CBD also helps to relieve general tenseness of muscles, shortness of breath, and tightness in the chest. Helps to manage pain In addition to battling anxiety and depression, CBD helps to manage chronic pain that is associated with arthritis, rheumatism, minor and complicated injuries and other painful conditions. This is due to the anti-inflammatory effects of CBD which helps to alleviate and reduce pain. CBD Has Been Shown To Reduce Seizures Studies have shown that CBD helps to reduce the frequency of seizures in patients suffering from epilepsy. Even so, researches has shown that CBD oil is an effective treatment for epilepsy patients as it helps to reduce drop seizures in them thereby helping them to regain their lives and attend to their daily activities. CBD has also been proven to be effective for epilepsy patients who do not respond to conventional medicine. It helps to control their seizures and have control over their lives.
How caffeine affects CBD
I believe by now that you have gotten a few information about CBD and CBD coffee as well as its effect on your brain and body. Chances are you have thought about a few things that do not add up. You may have asked yourself how CBD that has a relaxant effect and coffee that is considered to be an upper combine together to provide health benefits. Some might argue against CBD infused coffee as the greatest invention in the market. Don't be too quick to join the train, at least not until you have gathered all the facts about coffee. The amazing thing about taking coffee in the morning is it helps you to start your day with a fresh dose of energy, thus making you energized to carry on with your daily activities. However, energy isn't the only thing that coffee will provide you with. The caffeine present in coffee sometimes causes indigestion, insomnia, and anxiety. Also, it's capable of raising blood pressure and causing an irregular heartbeat. The sweet thing about CBD infused coffee is that it helps to relieve the negative side effects of coffee such as relentlessness, anxiety, bowel problems, insomnia, heart problems, stress, and much more. This is what makes CBD infused coffee a perfect combination for CBD enthusiasts and coffee lovers.
HOW TO MAKE CBD COFFEE
Having talked about the benefits of CBD coffee, let's see the production process of CBD coffee. CBD coffee is quite easy to make, and it is something you can make in the comfort of your home. Add CBD oil to your coffee While a lot of people aren't aware of this, you can actually make your own CBD-infused coffee by adding the CBD oil to your cup of Joe. This would save you the stress of going to a café every morning to get your coffee, from your kitchen, you can always make the best coffee that you will feel good about. CBD Infused Coconut Oils And Butter Taste Great One other tasty, yet quick way go get your CBD coffee done in no time is by blending either butter or CBD coconut oil with your already brewed coffee. You can stay confident to have a tasty drink afterward.
How To Drink CBD Coffee
There's no rule guiding the pattern or way by which you can have your CBD coffee. You're open to select your best preferable method of drinking, whether you wish to get the most popular brands from the market or prepare from scratch. If you're not willing to go through the stress of making your own brew or checking out the available coffee shops that makes CBD coffee in your area, we've put together a few brands to check out too below:
Best CBD infused coffee
Strava Craft Coffee This kind of coffee aims to bring out the best of every bean used and also select the best coffee growers. Encompassed in the strava craft coffee are other distinctive coffees, innovative infused ones and signatures that go a long way to help you control inflammation and pain alleviation. It also helps you stay focused and feel calm. Hellion Cold Brew Hellion Cold Brew under the Metric coffee will keep you relaxed and help you stay cool during the warmer periods of the year. Not only that, you he to stay productive and alert all day long. If you're looking to get one of the most versatile cold brews available in the market today, you're just a step closer to getting one. Hellion Cold Brew is available in different sizes and flavors, and its also available for every tea lover to use anytime of the day. Green Roads Green Roads' CBD infused coffee offers a dose of CBD and caffeine to take you off the edge and make you feel alert and calm at the same time. The ingredients used by green roads are pharmaceutical grade CBD hemp oil and CBD beans which is the combination that cannabis enthusiasts and coffee drinkers love the most. Clockwork Coffee Clockwork Coffee provides the perfect balance of caffeine and cannabis. It will give you the energy you need to Kick start your day and killing anxiety and jitters in the process. Clockwork coffee comes in different smooth and bold flavors that will give you the boost you need to start your day on a good note. The difference between clockwork coffee and other brands is clockwork coffee is available in different sizes and forms. Thus it's easy to carry around in a backpack or bag to take to meetings or work. Simply put, you can be discreet while carrying clockwork coffee. Also, it is easy to prepare as you just need to open a stick of coffee, empty the contents in a glass and top with hot or cold water. The preparation of clockwork coffee is similar to other types of instant coffee. Clockwork coffee comes in two brands of instant coffee which are clockwork coffee pure 10 and Clockwork Coffee Balanced 5. It's advised that consumers who are lightweight should start with Clockwork Coffee Balanced 5 since both brands contain CBD and trace amounts of THC. For consumers who are experienced users of cannabis, Clockwork Coffee Pure 10 is the best option as it provides a robust experience since it contains 10 mg of the THC compound that helps with drowsiness and dullness. It also provides the needed strength and energy to start the day. Kickback Cold Brew Whats fascinating about the Kickback cold brew CBD coffee is that it is vegan and gluten-free, even the latte is made with plant-based milk. Kickback cold brew coffee contain about 20mg of CBD per cup. It's clean, natural and made with CBD that was extracted organically from hemp plants. Kickback cold brew coffees aren't just drinks, but a lifestyle. It's a lifestyle that will complement your day and make you carry out your daily activities energetically.
Downsides of drinking CBD coffee
As with anything that has upsides and downsides, there are also downsides of drinking CBD coffee. In some cases, caffeine may reduce the sedating effects and anti-inflammatory effects of CBD. You are likely to experience this side effect when you take higher doses of CBD rather than taking low doses of CBD coffee. You may also experience some mild side effects of CBD coffee such as sleepiness and drowsiness. I believe that this isn't what you hope to get from a cup of coffee. The fact remains that you will experience side effects if you don't take the right dose of code and CBD. When you take the wrong dose of coffee and CBD, you may feel drowsy and sleepy and not enjoy the boost you were hoping to get from the coffee. While you do not want to go overboard with cannabidiol, so you don't experience some undesirable side effects, it's crucial that you monitor your caffeine intake. Caffeine overdose can result in some unwanted symptoms such as: Nervousness Jitters Insomnia Nervousness Sweating Dizziness Arrhythmia
Final thoughts on CBD infused coffee
If you want to take CBD coffee, it's advised that you take CBD coffee moderately to enjoy the benefits of the coffee. It's only when you take it moderately that you will enjoy and experience the wonders it does for the mind and body. If you are someone who enjoys drinking coffee before dashing off to work in the morning and you are looking to make your morning ritual sweet, caffeine and CBD could turn out to be a union that was specially made in heaven. However, I recommend that you brew your favorite coffee and add some drops of THC free CBD oil or full spectrum oil. You need not switch from your favorite brand of coffee to the CBD infused coffee shared in this post. What you should do is add CBD oil to your favorite coffees and enjoy the heavenly feeling.