In this article I'll be reviewing Ageless Labs extensive range of CBD products, including Water-Soluble Hemp Tincture, Rapid Relief Cream, Bath Bombs, Diet Hack Fasting Support 356, Cannabinoid Rich Gummies, Hemp Pet Drops, and Focus EZ Brain Support.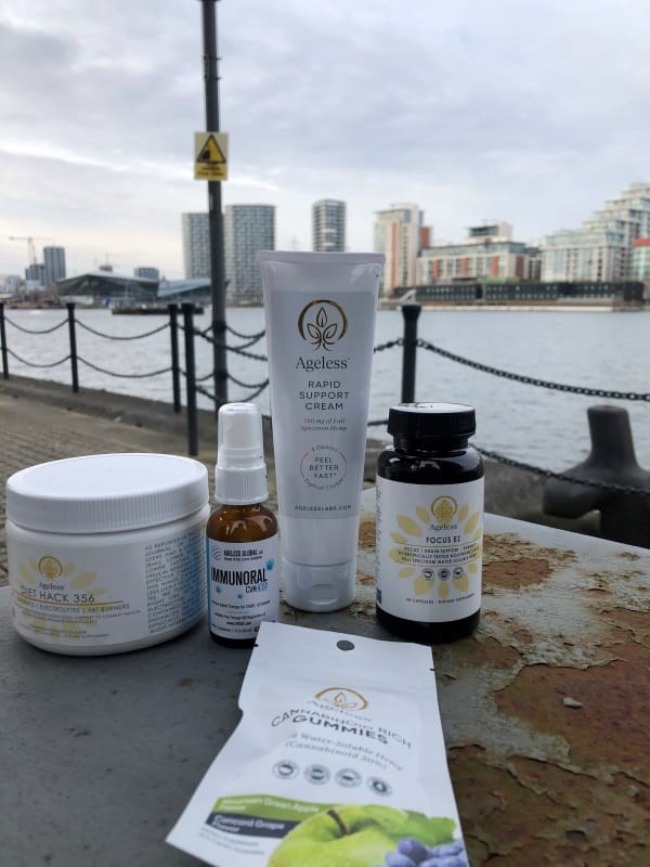 About The Brand
When it comes to CBD you cannot trust just any brand as there have been reports of a lot of people misusing it. Thereby, quality assurance is super important before using any CBD product. I consider myself lucky that I came across Ageless Labs while searching for a reliable CBD brand. The brand has everything one needs to build trust in it - quality, credible testing procedures, transparency, a large customer base, high market demand, and whatnot. Going through the reviews I realized every user is extremely pleased and satisfied by the products.
The dedicated professionals working behind the brand belong to the field of pharmacy and stem cell therapy which enables them to better workout the formulations, giving them leverage over others. They also deploy advanced testing procedures to ensure the highest quality products.
The most exceptional feature offered by this brand is fast absorption. Its products only take 15 minutes to start showing effects which are among the most instant results so far.
Ageless Labs CBD Products – Detailed Review
Water-Soluble CBD Tincture
Having tried a dozen CBD tinctures and all of them ending up spoiling my drink and ultimately my mood, I wasn't expecting much from this one either. But to my surprise, this water-soluble CBD tincture by Ageless Labs turned out to be the best one on my list.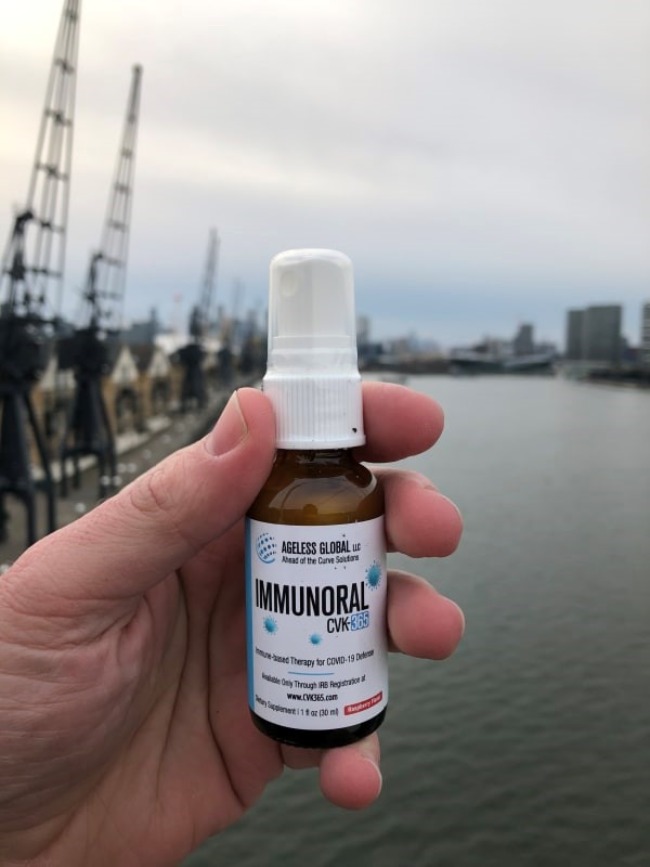 It is available in four different flavors including peppermint, chocolate mint, pina colada, and raspberry lemonade. I tried pina colada and would highly recommend it. The pineapple and coconut blend is 100x better than most other bland and strong flavors that can make one throw up. I found this tropical burst quite enjoyable that sometimes I took it directly without mixing in any drink. However, trying it out with apple and pineapple juices also came out well.
1000 mg CBD had been sufficient for me though you can also have 1500 mg as per your requirements. With this strength, two drops in the morning worked perfectly for the day. I also noticed a reduction in inflammation and improvement in sleep quality.
Ageless Labs Cannabinoid Rich Gummies
Packed with 500 mg water-soluble hemp CBD, these gummies are an effective yet fun way to relieve stress. These cannabinoid-rich gummies rapidly mingle with the endocannabinoid system which instantly relieves stress and anxiety and replaces them with calmness and relaxation.
The recommended dosage is 1-3 gummies per day. One wasn't enough for me so I usually took 2, though the third had been a great help at times of extra stress. Unlike other CBD products on the list, I didn't specify a time for these gummies and took them whenever needed - after lunch, during work, or on my way back to home after work. Despite my inconsistency, they never disappointed me and were equally effective each time.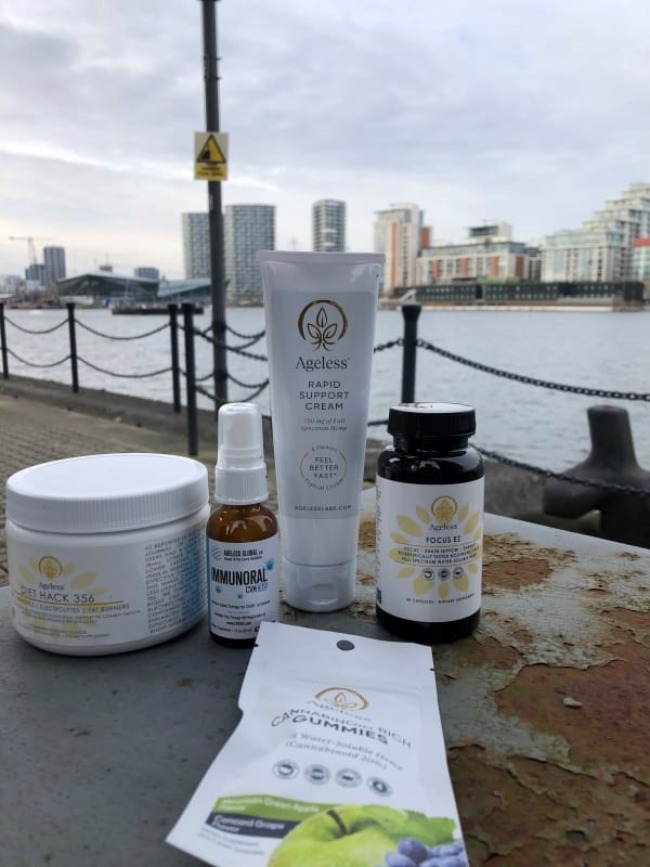 I also tried their recommended dosage for sleep issues - 5 gummies before bedtime - and it worked wonders. In about 15-20 minutes I found myself drifting to deep slumber. This also made my mornings considerably better as I woke up fresher and more energetic.
Here comes the best part - the flavors. The brand offers these gummies in three amazing flavors, including concord grapes, mixed fruit, and mountain green apple. Having tried the juicy mixed fruit flavor which was absolute bliss, I am excited to try others too.
Rapid Relief Cream
Muscle pains are not new to me but trying out this amazing pain relief cream definitely was. The first thing I noticed was the elegant packaging. The cream comes in an easy-to-carry tube that holds a securely placed label designed in a simple and attractive shiny golden ink. It is quite easy to use and mess-free.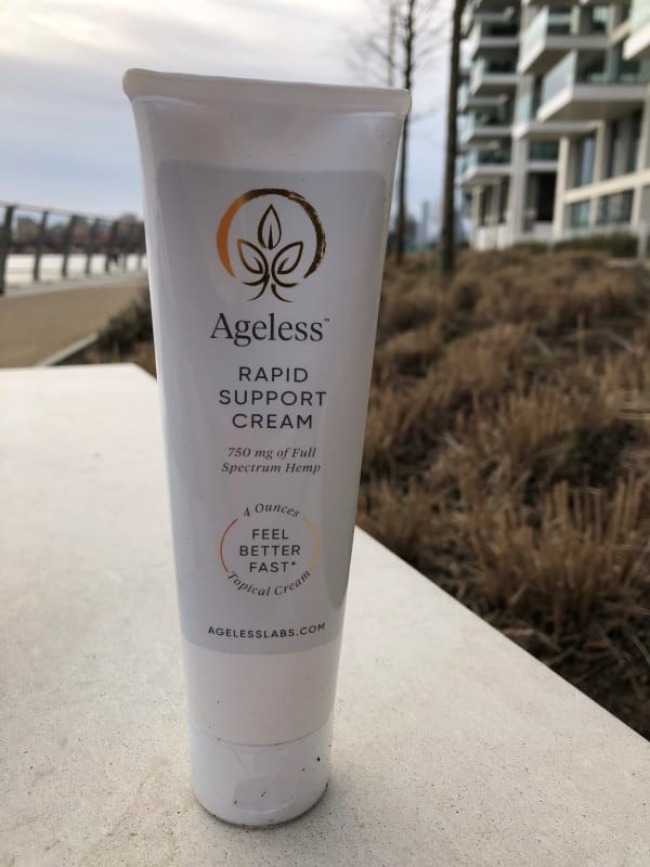 The second prominently amazing feature of this pain relief cream was the mildly sweet fragrance that at once made it feel like just a nice moisturizer. That's because most pain relief creams and balms have a sharp smell that every nose can easily recognize from a distance.
The third and most important feature was its composition. It is infused with water-soluble hemp CBD, arnica oil, eucalyptus oil, peppermint oil, ginger oil, camphor oil, wintergreen oil, cinnamon oil, chamomile, and aloe gel. When applied to the targeted area this powerful blend instantly combats the pain-causing agent, moisturizes, and softens the skin. It prevents rashes and other inflammatory effects and ensures speedy recovery.
Staying true to their goals, the experts at Ageless Labs have formulated this cream to impact in less than 15 minutes which it actually did.
Focus Ez Brain Support
Focus Ez Brain Support is an excellent depiction of how far Ageless Labs is willing to support its society. Apart from physical health and performance, it has also paid considerable attention to improving the mental efficiency of its people.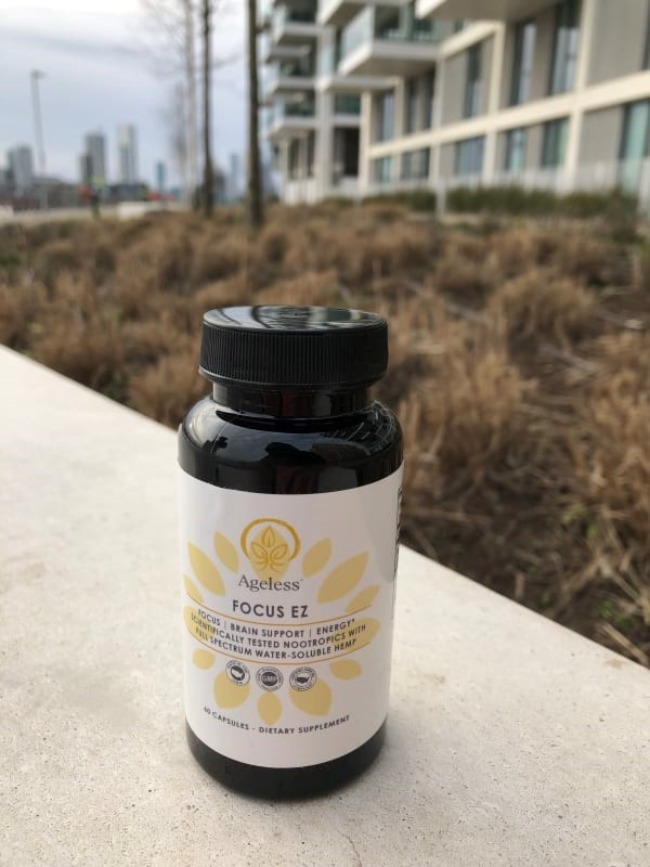 This supplement contains full-spectrum hemp CBD, L-theanine, caffeine, and Panax ginseng. Hemp CBD is highly effective against stress and anxiety and efficiently replaces them with calmness and relaxation. It also fights inflammation and promotes good health overall. L-theanine is responsible to maintain serotonin, GABA, and dopamine levels to create relaxation, boost mood, and enhance creativity.
Caffeine is known for the unparalleled alertness it grants. Especially when taken in the morning, caffeine can make you fresher, awaken, and aware. Studies have shown that ginseng ameliorates brain function, including mood, behavior, and memory.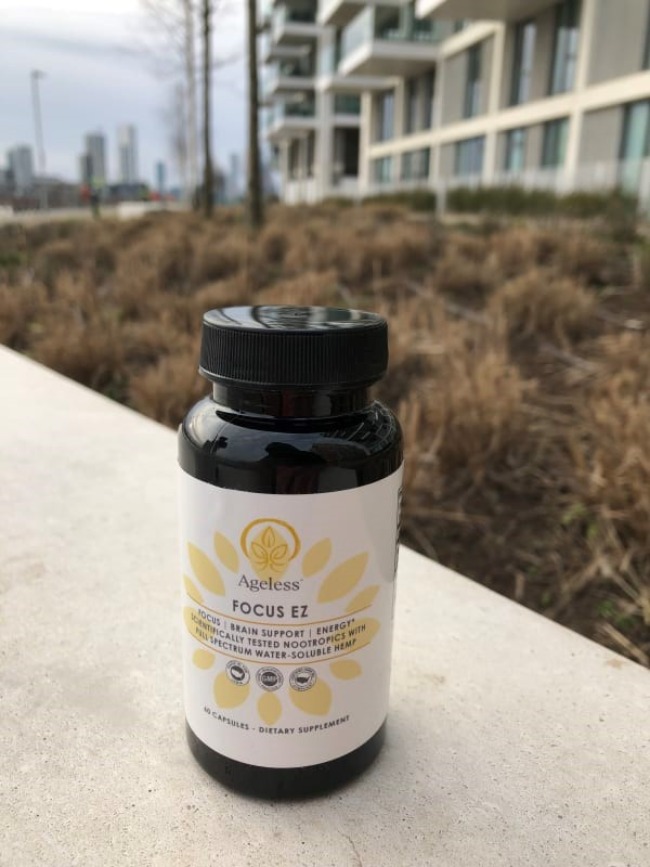 This brain support with such effective components does not need longer than 15-20 minutes to show effects. I took two capsules before starting to work in the morning and two after lunch. Mentioning that, the recommended dosage is 6 capsules a day. The results were quite satisfactory. Not only did I notice an uplift in my creativity and mood but my memory also started to get stronger.
Diet Hack Fasting Support 356
Diet Hack Fasting Support 356 is a life-saver for people trying to lose weight. For a lot of novice or unaware practitioners dieting is equivalent to a long hunger strike. However, while dieting it is important to maintain the nutritional intake for a healthy and active body that does not get exhausted easily.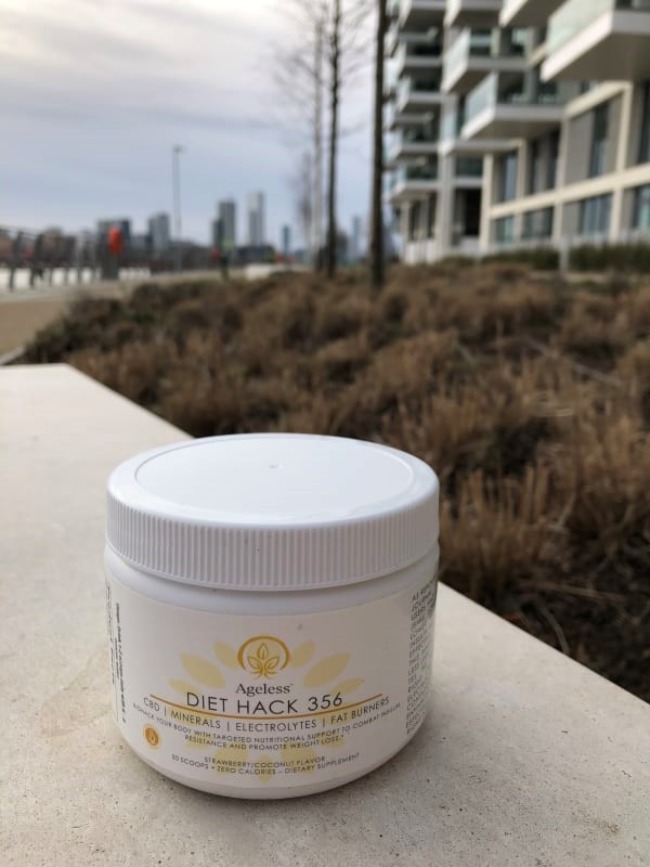 This diet hack supplement takes care of all of that. It supports the fasting diet making it more effective while at the same time maintaining the body's nutritional level. It is made up of water-soluble hemp CBD, vanadium, magnesium, chromium, potassium, green tea, green coffee beans, and guarana.
The water-soluble CBD instantly absorbs into the system, making the formula super efficacious. It has also been shown to reduce BMI and insulin resistance which prevents you from having diabetes. Chromium is also quite effective in managing diabetes to an extent that it can even reverse as per some studies. Magnesium aids in the body's energy management to ensure efficient physical performance and without frequent exhaustion.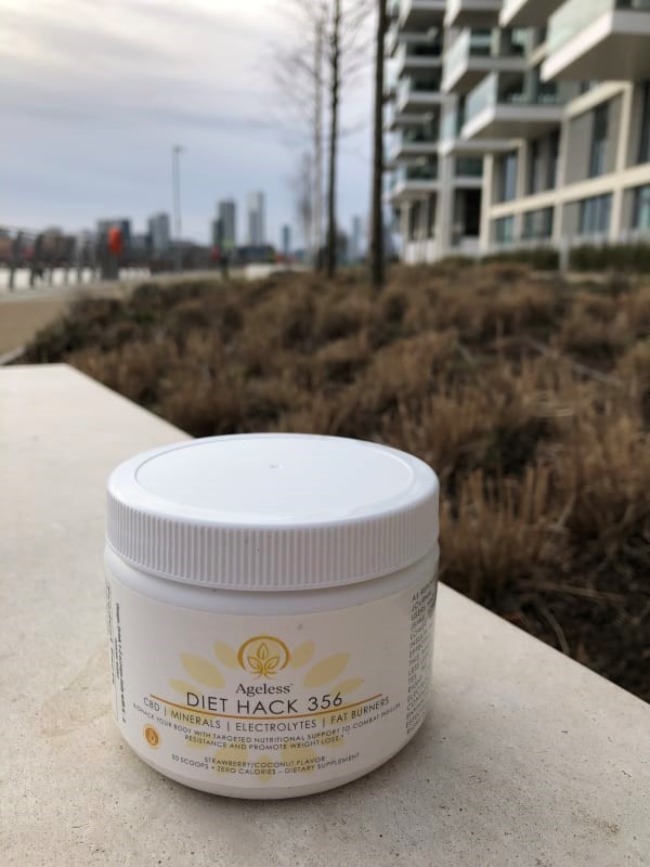 The container has 30 scoops and each drink requires one scoop. Thus, you can make the most out of one container if you use it efficiently. Moreover, the strawberry and coconut flavor, an added luxury, is complete bliss.
Bath bombs are a unique and convenient way of consuming CBD. Making them even more effective and meaningful, Ageless Labs has introduced four types of bath bombs based on their purpose - breathe, headache release, retreat, and pain relief. Each of these has a specific formulation particular to its goal, though its effectiveness remains unmatched.
I tried each of them and the results had me in awe. They hardly took about 15 minutes to completely calm me down and take all the stress away. These have literally turned a normal bath into the most relaxing experience ever. The strengths available are 50mg and 100mg that can be chosen as per your requirement. Based on my stress level, I took 1 of 50mg and the other 3 of 100mg. They were both instant and amazingly effective.
Full-Spectrum Hemp Pet Tincture
Stress, anxiety, and inflammation are as common in animals as in humans. I wasn't much concerned about this until I got a dog who gets super anxious when I am not around. I have tried several ways to relieve his anxiety but nothing seems to help. Luckily, I came across this full-spectrum hemp pet tincture by Ageless Labs which instantly became my dog's favorite from the first use.
It has a tempting bacon flavor that excites my dog, making it difficult for him to wait for his mealtime. The 30ml bottle comes loaded with 300 mg of CBD, 2-3 drops of which are usually enough to completely calm my furry friend down.
Conclusion
Ageless Labs is one of the most sought-after CBD brands that offer a range of exceptionally satisfying products to combat stress, anxiety, sleep issues, inflammation, and a lot more. Everything, from tinctures to bath bombs, offers unmatched effectiveness that can keep you hooked to the brand for a lifetime.