How to Get Vape Backlinks the White Hat SEO Way via a Marketing Outreach
Getting quality vape backlinks is a real challenge. One of the safest and best ways for online vape shops to get quality backlinks is via a guest blog post outreach. This is a method whereby you contact other vape shops, vape blogs, vape event organisers (vape expos), e-liquid brands, vape manufacturers, vape reviewers, etc. Essentially, you are contacting other vape websites with a request to publish your guest blog post with a do follow backlink inside the article.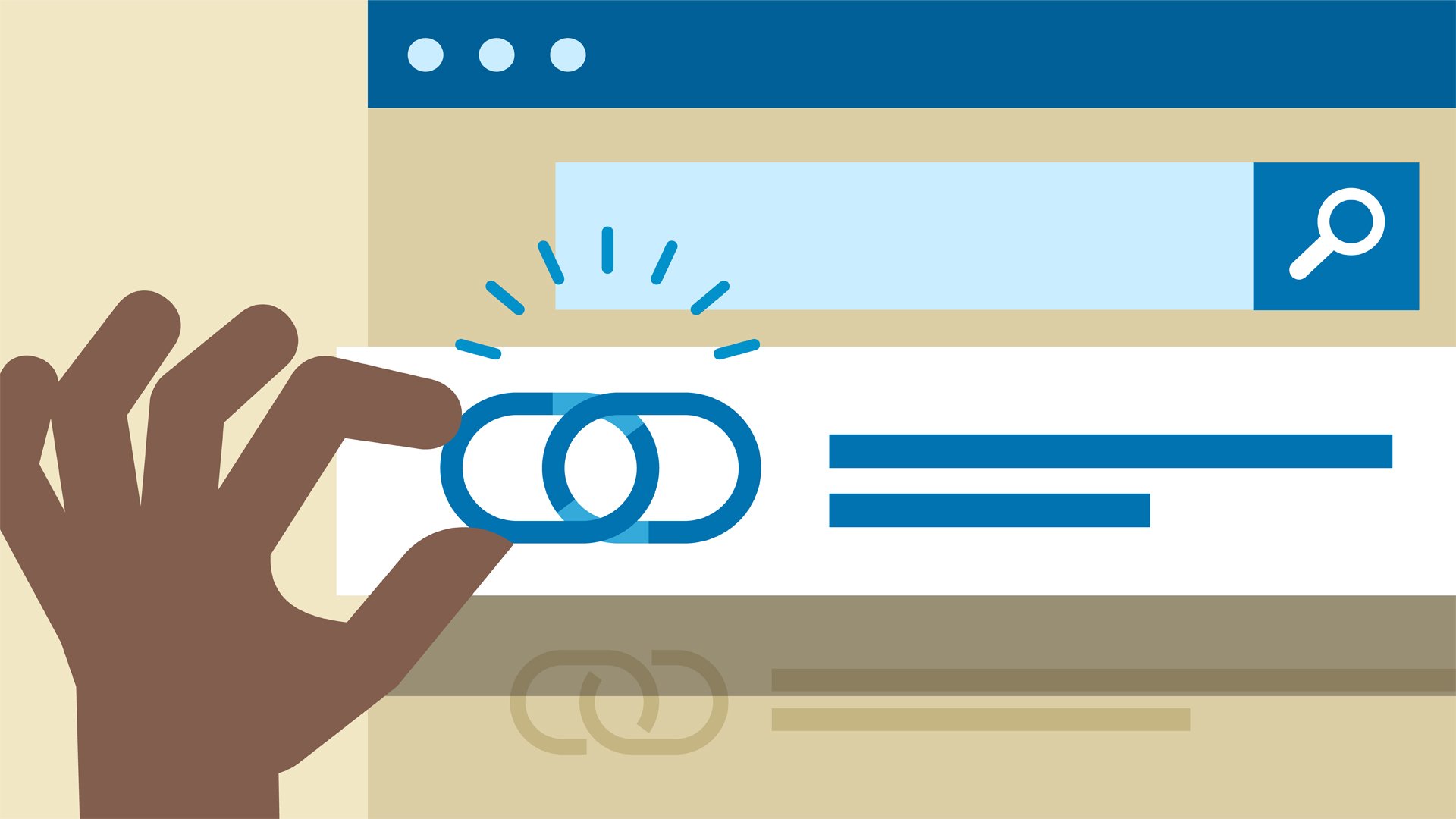 Why Do you need vape backlinks?
Vape backlinks remains one of the most important Google SEO ranking elements. The more quality backlinks your vape website has, the higher its rankings on Google will be. Backlinks act as a vote of confidence from Google. When Google sees many quality backlinks, it is thinking "right, other niche-related websites are linking to this site, therefore it must be popular and I must ranking it higher on the SERPs".
Beware of spammy backlinks: these can break your online vape shop
Caveat emptor! Not all backlinks are equal. Using automated backlink building is a definite no-no in today's vape seo landscape. Keep away from automated SEO link building software such as forum posters and mass link generators. Google can detect spammy backlinks and land your website with a penalty which will see it lose rankings.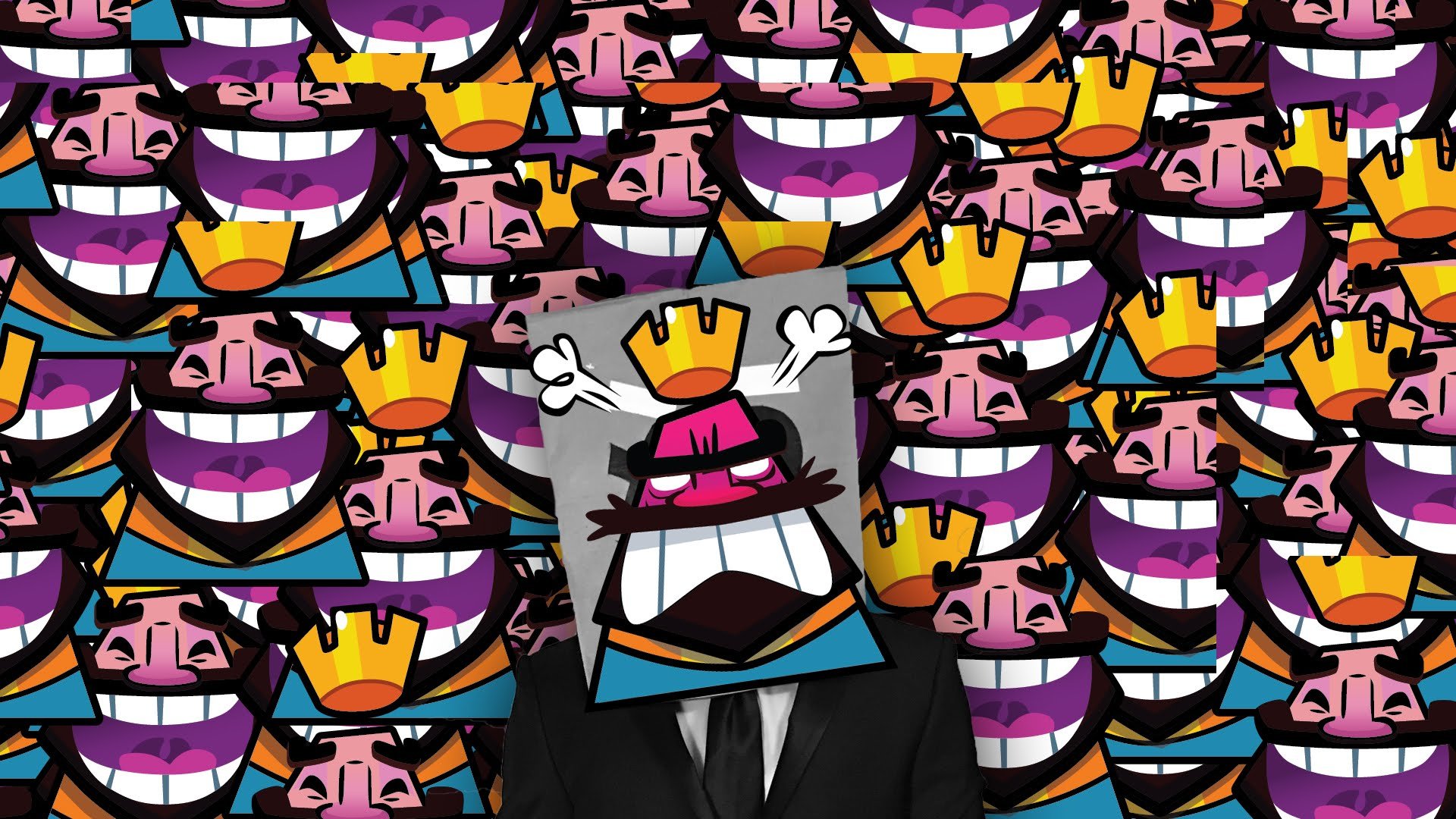 Why vape guest blog outreach is the best way to get quality vape backlinks
Vape guest blog post outreach is by far the safest and most effective way of acquiring quality and niche-related links. When your vape guest blog post is published on a vape-related website, you get a contextual backlink. This means that your backlink is inside the context of an article. Google gives more weight to contextual backlinks as compared to footer or banner links, which are now considered to be spammy and do not pass much link juice.
How to do an effective vape guest blog post outreach for quality backlinks
Create a list of vape websites to target
The starting point is to create your list of vape websites that you would like to target. For example, you may want to categorise your prospects by business type: online vape shop, e-liquid brand, vape wholesaler, vape reviewer, vape expo organiser and so on!
Decide on the best communication channel
You will need to decide on the best way to reach out to these websites. For example, you may consider using e-mail, social media such as Facebook, Instagram, LinkedIn and so on, newsletter, website contact form submissions, telephone calls, etc. Please note that some methods may be more effective than others. From experience, Facebook tends to have the best response rate. On the other hand, e-mails can be less effective due to the issue of spam filters. Ultimately, it is a good idea to mix and match different communication channels.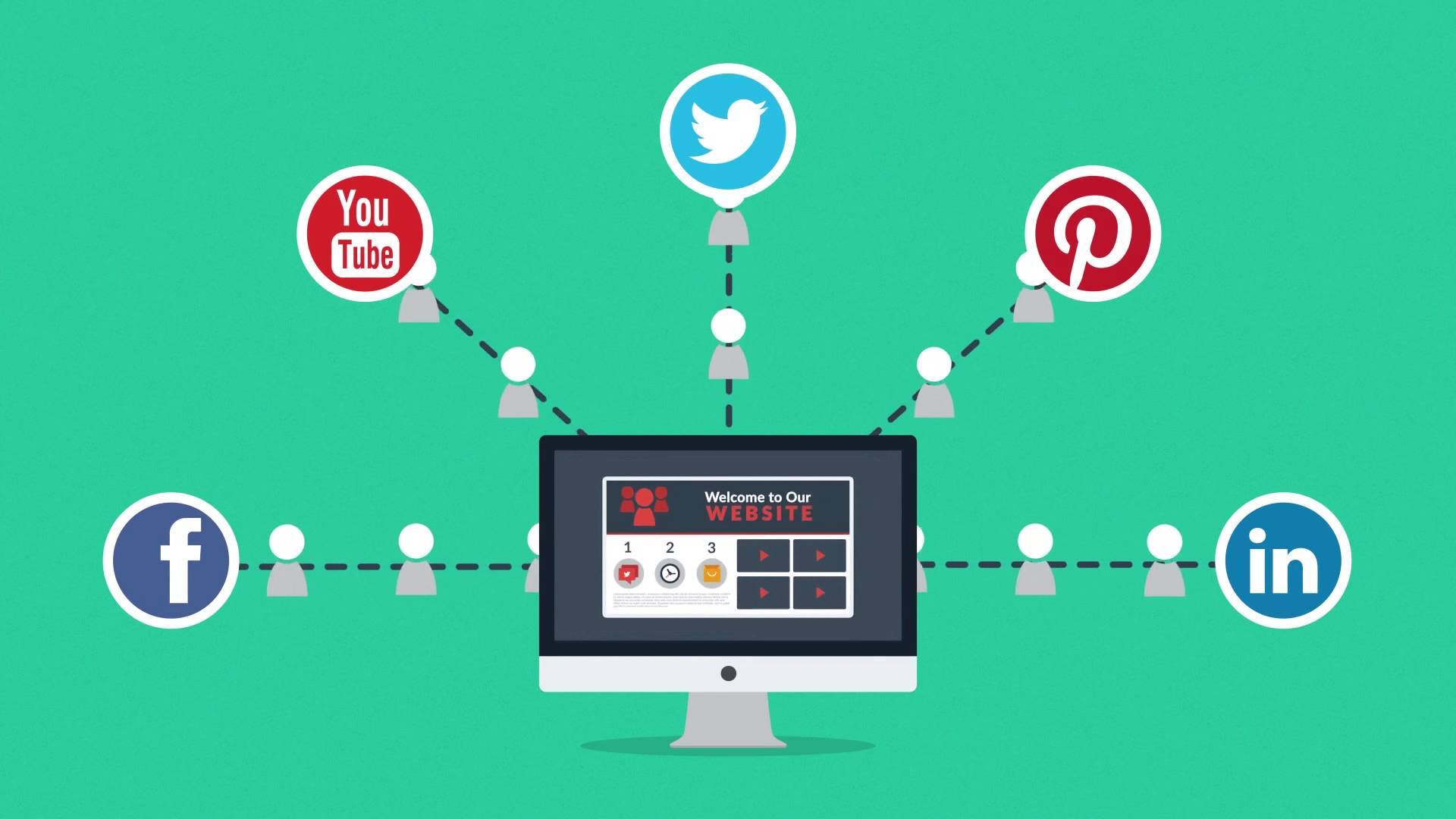 Draft your message for the vape guest blog post outreach
The next step is to draft an effective message for your guest blog outreach. Do try to be personal and avoid generic messages. A tailored approach will get you in a better stead than shooting out the same message to thousands of vape websites. You may want to consider drafting unique messages for different communication channels. Your Facebook messages should be more personal whilst your emails can be more professional. It is important to keep your message very succinct and clear.
Here are a few examples you may want to use
Vape Guest Blog Outreach messages for Facebook
---
Hi guys!
I am reaching out to you from The Eliquid Boutique! We have written a couple of great articles on trending vape topics that we would love to contribute to your blog! We are sure that our articles will prove to be a real hit with your readers and provide valuable content to your blog.
Do let me know if you are interested and I will get the articles sent over to you!
Once you publish the articles, we will share those on our social media to drive some quality traffic to your store!
Cheers
Peter
---
Good Morning / Good Afteroon
I am writing to you on behalf of The Eliquid Boutique, a popular UK online vape shop. We have written some amazing articles on topical vape issues that we would totally love to contribute to your blog. We are confident that our articles will make for some great content on your site and will prove to be popular with your readers.
Please let me know if you are interested and I will get the articles sent over to you!
Once you publish the articles, we will share those on our social media to drive some quality traffic to your store!
Kind regards
Peter
---
Offer Something in Return!
Whilst you are offering to contribute your guest blog posts on other vape-related websites, you have to spell out the benefits of publishing your article. Some things you could consider is the fact that a vape website will benefit from unique content which is an important Google rankings factor and a way of driving quality traffic. You could also offer to share the published vape blog post on your social media network to drive further traffic.
The Importance of Following Up
If you do not get an immediate response, do make an effort to follow up. The odds are, your message may have gotten lost in the junk folder or may have been overlooked.
Focus on Quality rather than quantity
A more personal and unique approach will get you much better results than a blind email blast or a "copy and paste" approach. It may make sense to create a spreadsheet with the details of your prospects. You can then track the progress of your vape blog outreach.
Now you should start building up a portfolio of quality vape backlinks
You will notice that vape websites will start publishing your vape guest blog posts and you should start seeing more backlinks pointing to your vape website. A good way to track backlinks is through the Google Console or better still, ahrefs (a paid service). You should start seeing improvements in your Google rankings.
Some tips for writing a Killer Vape Blog Post
You should aim to write quality articles for your guest blog post outreach. Junk has a low chance of publication. You should consider the most trending issues in the vape industry and sometimes, you may even agree guest blog post topics with the publishing website. This will help you to achieve an even better success rate. Yes, it is more time consuming and more expensive to write up many unique articles, but in the long run, it is going to take you above the competition and your investment will pay off manifold. You may want to refine your list of prospects by popularity or domain authority since more popular vape websites with a higher domain authority and trust flow will drive more traffic to your store and give you more powerful backlinks.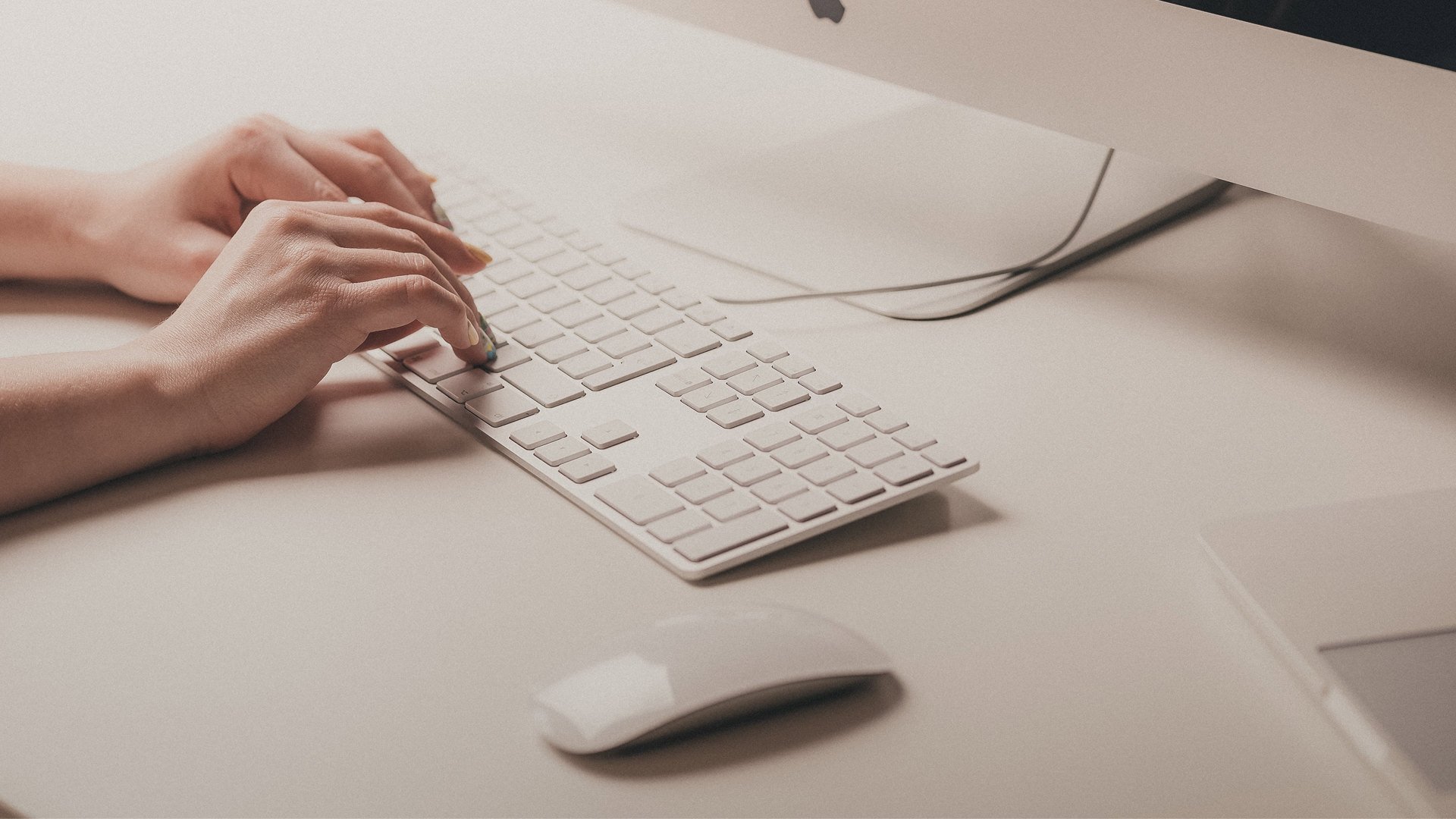 Some Additional Ideas on Acquiring Vape Backlinks
Reach out to Vape Reviewers and Vape Bloggers with Samples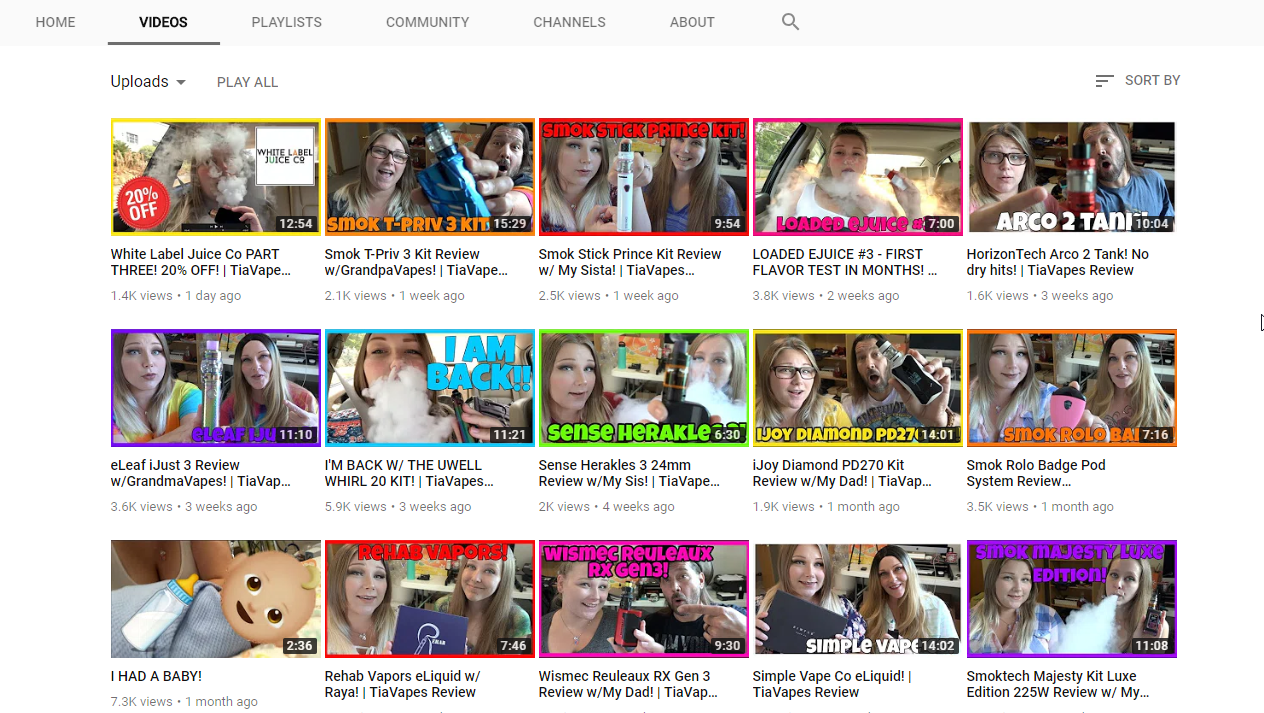 In addition to guest blog posts on vape-related websites, you may also want to contact vape reviewers and vape bloggers and send them a sample of your e-liquid for review. This is an almost guaranteed way of getting vape backlinks. Vape reviewers almost always add a "thank you" link to the vape shop that has sent them e-liquids. Here is a sample template that you could use when reaching out to vape reviewers:
Hi [name of reviewer]
We totally love your [YouTube channel / vape blog] and would be very keen to send out some awesome [e-liquids/vape mods] for your review!
Please send us your address and we will get those posted out to you!
Regards
Peter
The Eliquid Boutique
Reach out to vape event organisers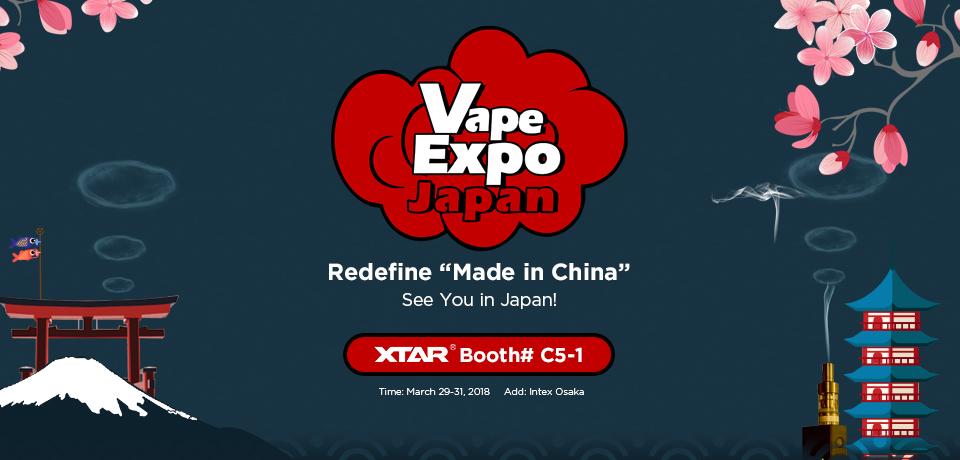 It is a seldom known secret that vape expos are very open to backlink exchanges and cross-promotion. A vape exhibition is a massive investment and so vape event organisers need as much exposure as they can possibly get. You could therefore research and put together a calendar of all vape exhibitions and then reach out to them with your offer. Here is a template that you could consider using.
---
Hello!
We are very excited about [name of the exhibition] and look forward to attending. In the meantime, we would be very glad to promote you to our list of subscribers via our newsletters as well as spread the word on our social media and even publish a guest blog post. In return, we would be grateful if you could list us as one of your partners/sponsors.
We look forward to hearing from you!
Kind regards
Peter
The Eliquid Boutique
---
Reach out to e-liquid brands and vape hardware brands and manufacturers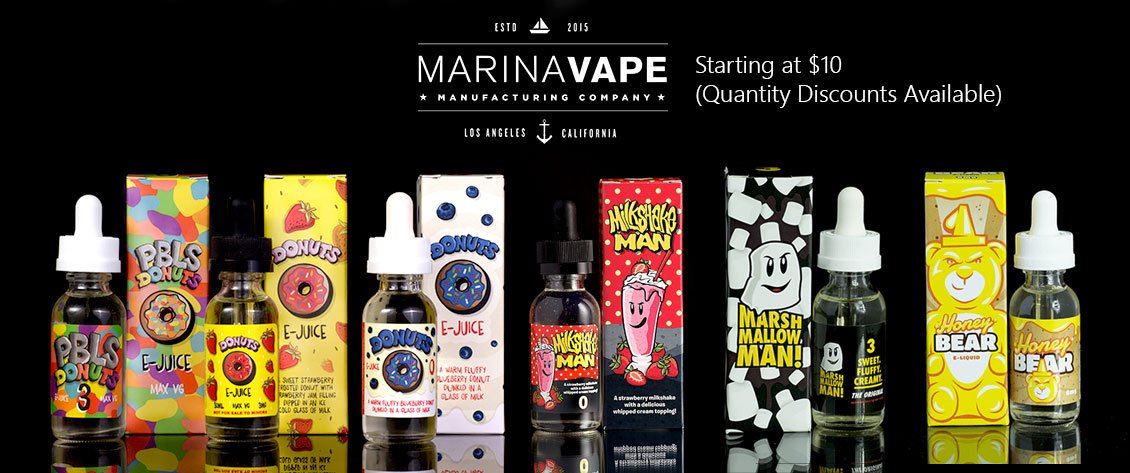 If you are a vape shop, you are definitely carrying quite a number of e-liquids and vape gear! You could contact these e-liquid brands and vape gear brands and manufacturers and ask them to list you as a vendor on their website. When people are checking out a website of an e-liquid brand or a vape gear manufacturer, they want to know where they can purchase e-liquid or vape gear from that brand. This is an easy way of you getting a valuable backlink as well as some exposure and traffic. As you are carrying e-liquid or vape gear from a brand, there is an implied partnership. An e-liquid brand would not want to lose you as an indirect customer and are thus more likely to feature you as their vendor. Here is an example message that you could send out to prospective e-liquid and hardware brands:
Hi!
We are writing to you from The Eliquid Boutique, a UK online vape shop. We are presently carrying your [brand name] e-liquid and would be grateful if you could list us as a vendor on your website. This would help people to find an online store in the UK that carries your vape juice and would also help us to increase our sales of your e-liquid! If you do not already have a list of vendors on your website, we would highly recommend it!
I look forward to hearing from you!
Kind regards
Paul
The Eliquid Boutique
Partner up with E-Liquid brands and other vape shops!

Another good way of getting backlinks and relevant traffic is by partnering up with vape shops, e-juice brands, wholesalers, vape bloggers and so on! Be careful thought! Do not attempt to partner up with your competitors. For example, if you run an online vape shop in the UK, then there is no harm in partnering up with an online vape shop over the United States simply because you are referring traffic to each other. Customers from say California are less likely to buy from you! Likewise, customers from the UK are less likely to buy from a Californian online vape shop because of the taxes and higher shipping costs! If you are an online vape shop, then there is definitely no harm in partnering up with an e-liquid brand as you are not in direct competition. Here is a template that you could use when approaching vape websites with your partnership proposal.
Hi!
I am writing to you from The Eliquid Boutique, a popular UK online vape shop. We would be very keen to partner up with you. We would love to add you to our partner page and would appreciate if you could do the same for us. Simply send us your logo and a brief description of your company so that we could add it to our website. We believe that by partnering up, we will be able to refer each other valuable traffic which would help our mutual success.
Kind regards
Peter
The Eliquid Boutique
---
Reach for the Low hanging fruit with blog comments and forum posts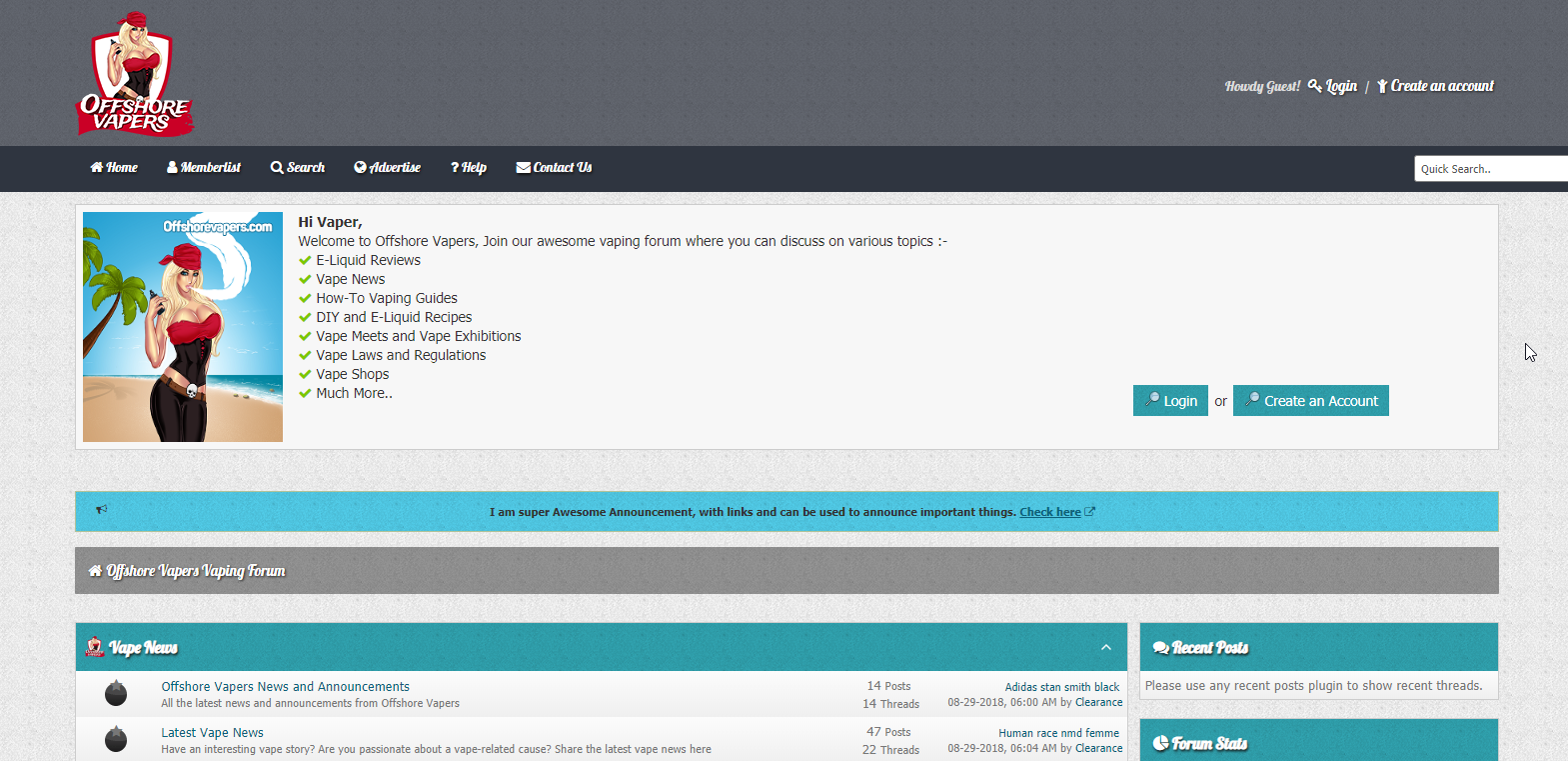 If you are looking for easy backlinks, you could consider doing some commenting on other vape blogs and forums. These backlinks will not carry much weight as most are NO FOLLOW, which simply means that these backlinks do not pass direct link power to your website. Nevertheless, they are still important in helping to diversity your backlink portfolio. It is only natural to have NO FOLLOW backlinks and Google will take positively to it! We also recommend that you include your website url inside your social media posts as this will help you to generate social signals for your website, which are still an important element of overall vape seo and Google rankings. Consider using a url shortner when adding your website url inside your social media posts. We recommend that you use Google URL Shortener.
Buy Vape Backlinks on Sweaty Quid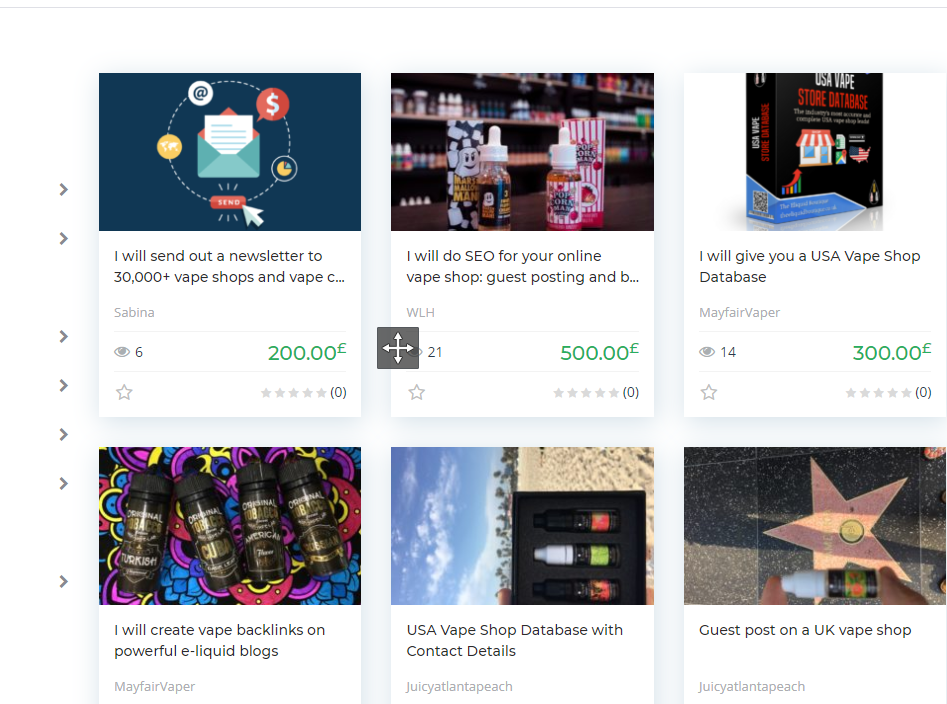 Sweaty Quid is an awesome UK-based freelancer website that is very popular with vape freelancers and vape companies. There, you can purchase vape guest blog posts, social media shoutouts, PBN vape backlinks, vape blog backlinks, vape shop directory listings and much more. Most people will look adversely to the idea of buying vape backlinks for their vape search engine rankings. However, it is a part of the strategy that can work very well. There is nothing wrong in buying backlinks: you are getting a benefit and it is only right to remunerate the other party for their efforts. You will also find that buying backlinks is a guaranteed way of getting backlinks whilst the free vape backlink outreach methods can be a bit of a hit and miss (and they do take MUCH LONGER!).
We really hope you have found our article on ways of getting vape backlinks useful. If you are strapped for time, we recommend that you check out our vape backlinks packages and all-in-one vape SEO package!