Quality Vape Shop Marketing Leads Can Make Or Break Your Business
Sales and marketing are the two terms so commonly used that they have become synonymous. It is as the words are the same and there no separating them. And it is obvious that sometimes the terms are confused entirely.
As much as it may sound confusing, the two terms are very different from each other. Each of them contributes to the success of a business at their level. To be clear, sales is the final stage where products are exchanged for money. Marketing, on the other hand, is the stage that involves convincing, encouraging and directing a prospect into the sales process.
This means that both are important for the business and work towards the same goal.
Marketing for a vape shop is as important as any other business. It gives the sales team something to work on.
Leads generation, marketing, and sales
One of the essential activities of any marketing team if coming up with leads. The leads have become so important that companies invest a lot in generating quality leads.
The only issue is that it is not easy to generate vape shop leads. It takes time and needs a lot of patience. It is even harder for a starting business as they will still be struggling with establishing the business as well as investing in marketing.
The truth however is, it is a must to generate them. They determine whether your business stays on the market or it collapses before you even establish.
It is not just about leads, but quality vape shop leads. This is to say you must put into focus the quality of your leads if you want to get the best out of it.
After the marketing teams have made their bid to bring in the leads, the task of converting them into sales falls into the hands of the sales team. The sales team is responsible for following up and ensuring that the leads convert at the end of the day.
It is very difficult to convert leads that are not quality. You can, for example, get leads that have no affiliation whatsoever with the vaping industry, converting such is next to an impossibility. That is like wasting your time for nothing.
Therefore you will find that email lists, for example, are segmented into categories for easy follow-up. Those with higher chances of conversion are placed under one package while those with lower chances are placed aside.
All of these follows the guideline for quality leads. It is through the actual selling of the product that a company received profits.
If you still doubt, lets us look at some of the importance of quality leads for a vape marketing campaign.
Quality vape shop leads = quality traffic to your online vape shop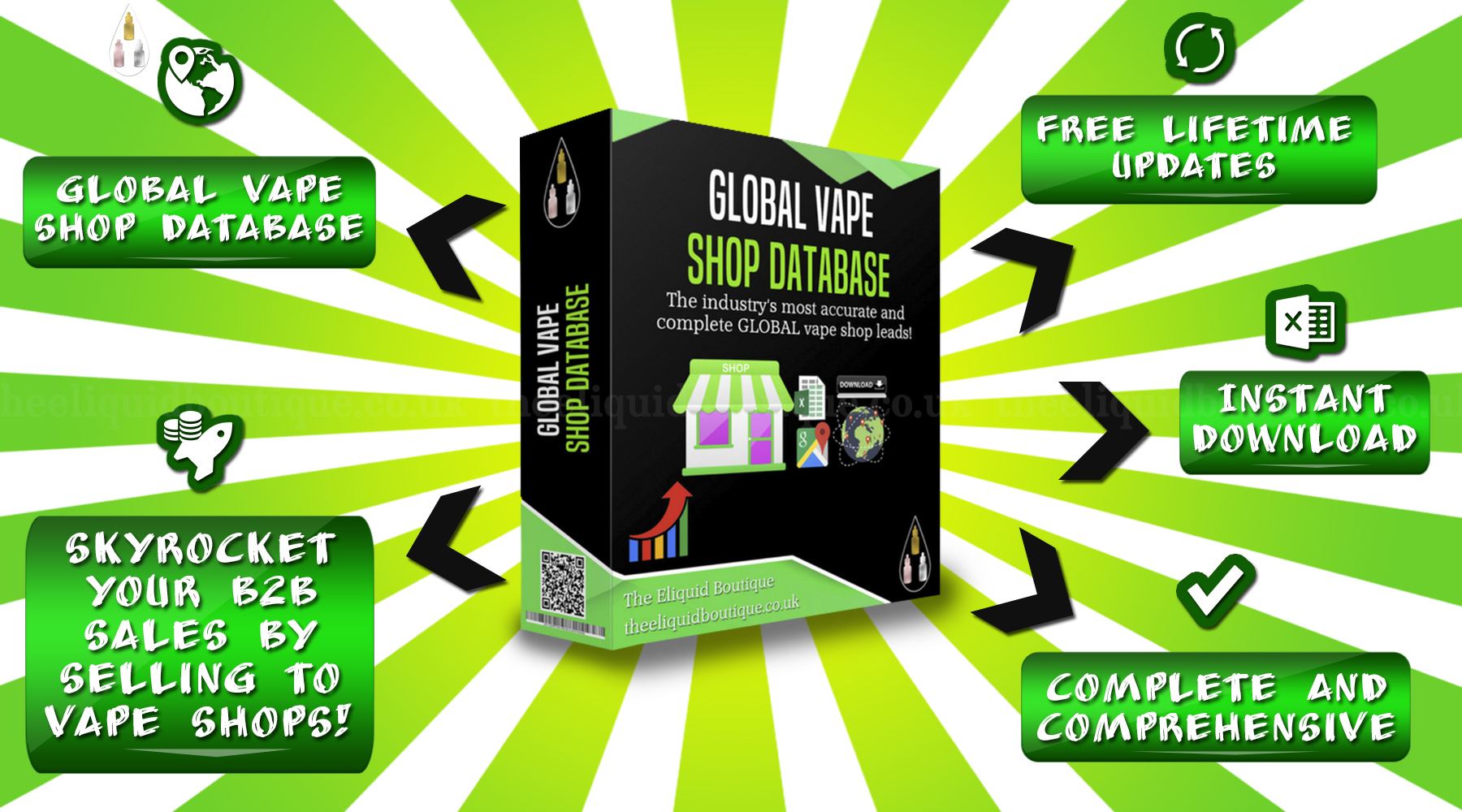 Once you have established your vape business, whether online or in a physical location, you will expect to see traffic flowing in. Traffic is the number of people visiting your website without necessarily purchasing. The higher the traffic, the higher your website will rank in the SERP.
If you have quality leads, they will visit your website more often. As if that is not enough, a person that is more interested in your website will share the news with others. And in that manner, one becomes two and so on.
Quality vape shop leads save on resources
Marketing is an investment. Vape businesses spend a lot of money on marketing with the hope of witnessing a high ROI. Some even go for huge loans so that they can meet the marketing costs. You can imagine how devastating it can be when they fail. Paying the loans will be hard and getting the business where they want will be even harder.
The sales team will be better of spending money to follow up on a lead that will most likely convert. The opposite happens when they go for unworthy leads. You don't have to spend company resources on leads that will take you to a dead end.
Quality vape store leads to build the reputation of your business online and offline
The reputation of your vape business depends on how relevant you are to serving your customers. Part of a company's SEO strategy is to appear good with the search engines.
Search engines normally reward websites that users visit the most. You rank higher in the SERPs to show you are a trusted business.
All this is made possible with quality leads. They will visit your website and leave positive reviews. Those interested in your product will go ahead and purchase.
The review they leave will encourage other new customers to join your team. As the traffic on your website increase, so does your sales and consequently, your business grows stronger.
Quality vape shop leads convert into sales, generating revenues for your vape shop
Not every lead will convert into a sale. Marketers understand this, and they know leads are not created in the same manner. It, therefore, becomes a priority to segment emails addresses they have.
At the same time, they have to update the list at all times. This way, they avoid those dormant contacts that may hurt their accounts.
The leads that remain on the list are considered quality and chances of converting them in increased. You vape business depends on the sales to stay together.
Quality vape shop leads give an easy task to your sales team
The sales team has the task to follow up on the leads generated by the marketing team. In most cases, this task is not easy.
The quality of the leads determines how possible they will convert. It helps if the lead has already shown interest in the product as it does not take much to convince them.
The way the leads are established matters here more than anything else. Therefore, having quality leads is everything you need to keep your vape business on the cause.
Final thought on e-cigarette store leads
The quality of your vape marketing campaign is paramount to your business. For this reason, it is important to ensure you generate leads of the highest quality.
If you decide to buy the leads, be sure you are getting them from a trusted source, that way you will not doubt them. Otherwise, it is better to optimize you vape shop online to generate organic leads.