Hooray! The Vape Company Email List Has Undergone Another Update Today!
The entire vape company email list has undergone one of many updates this month. The entire email list has been scrubbed from top to bottom using a three level email verification technique to remove all the non-resolving domains (abandoned domains) and defunct email accounts. Around 200 new vape and e-liquid wholesaler and distributor emails were added.
Why Use Our Vape Company Emails?
Our vape company emails encompass virtually all the vape companies from all over the world including vape shops (online and brick-and-mortar), vape and e-juice wholesalers and distributors, vape event organisers, vape blogs, e-liquid brands, vape hardware manufacturers and much more. Our email list of vape companies is ideal for newsletter and email campaigns. Simply load up all the emails into your newsletter provider or email list, draft your message and hit send. The vape company emails will connect you with almost all vape companies in the world in a flash. Our vape email list is being used by hundreds of e-liquid brands, vape wholesalers and other vape companies interested in selling their products or services to other vape businesses.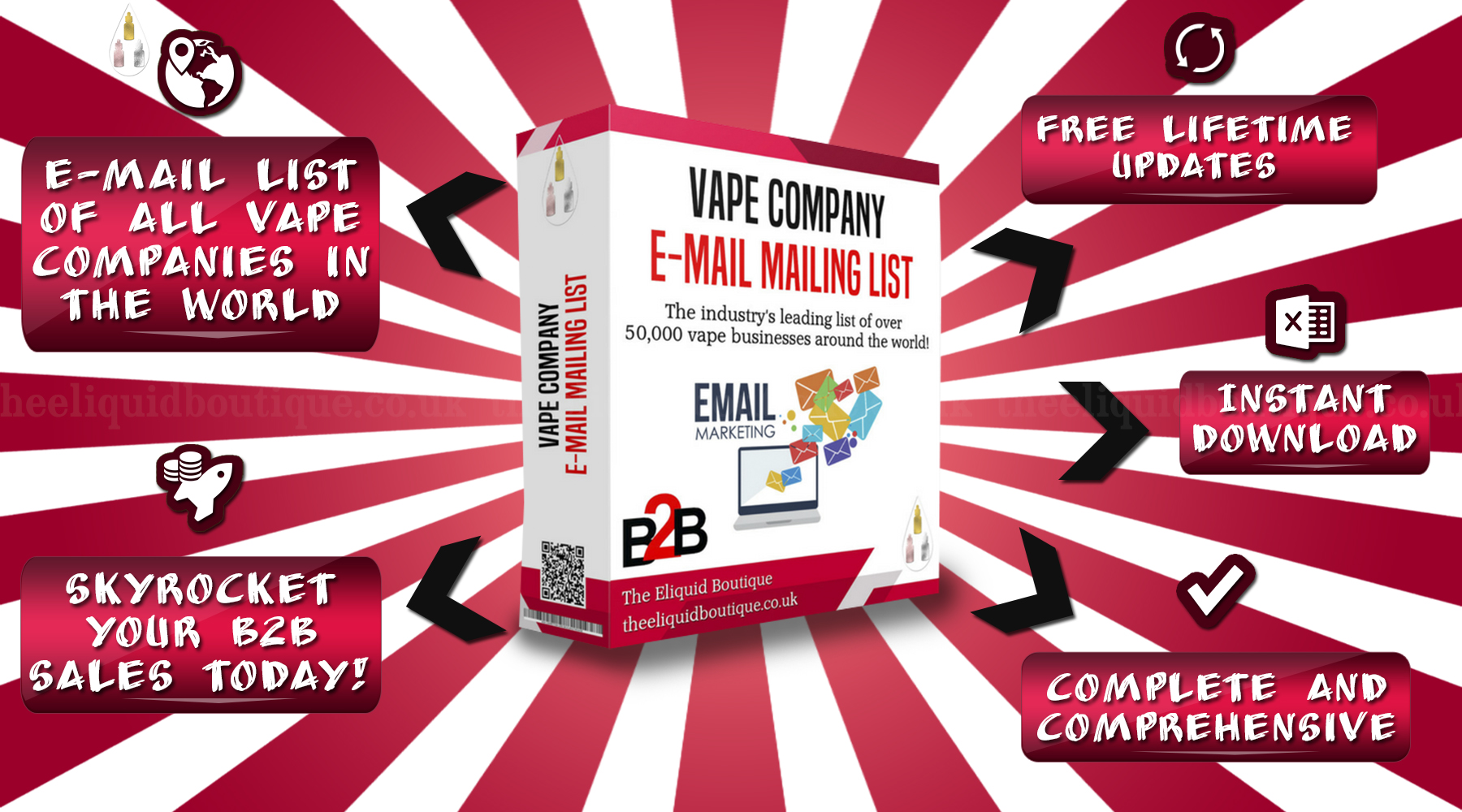 Here's What You Will Get
By purchasing our vape company email list, you will receive FREE regular updates which will be delivered directly to your inbox by our system. As you will have undoubtedly noticed, our vape company email list is updates very regularly to ensure that you have the latest and working vape company emails at hand. Say goodbye to stale and outdated email lists and start focusing on selling your products without wasting your precious time on compiling your own list of vape companies.
How we collect vape company emails
All of our vape company emails are collected from the public domains and vape exhibitions by our multi-lingual team. There are many vape stores that are simply impossible to find due to them being in other countries or having minimal online exposure.
Some Bad News
We are going to be increasing the prices. We have said this on numerous occasions now, but as you can see from the latest updates, we are investing more and more of our time and resources in updating and maintaining the email list to bring you only the latest and freshest leads at least once a month!
Some Good News
We have decided to freeze the price for the next 7 days as part of our Christmas sale! Do not miss this amazing opportunity to rocket your B2B sales.
Success Stories
We are extremely pleased that over 500 e-liquid companies from around the world have trusted us with our vape company email list. We remember when back in 2012 or so these new e-liquid brands were just starting out and having spoken to some owners, we were pleased to learn that our vape company email list has proven instrumental in facilitating the phenomenal growth of these e-liquid brands (some of which are the biggest e-liquid brands today!). We believe that this serves as a testament to our success and hard work in providing the best vape company leads on the market. As you will have noticed, our core focus is on building and updating our vape company leads (and it has been for the last 5 years!). We have many exciting updates planned for the upcoming month so watch the space!

To learn more about and purchase our vape company email list, click here or follow this link: https://bit.ly/2zcDKeX